The Royal Family
Updated February 21, 2017 |
Factmonster Staff

The Royal Family
The Queen Mum Turns 100!
Britain honors the country's most beloved royal
---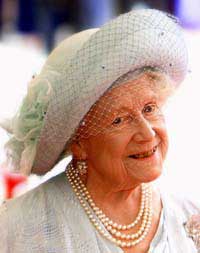 The Queen Mother arrives at London's Guildhall for a celebratory lunch in her honor on June 27, 2000. The Queen Mother celebrated her 100th birthday on Aug. 4, 2000. (Source:AP)
Military Planes, Shower of Rose Petals
On July 19, the Queen Mother was honored with an hour-long parade featuring 7,000 troops from various military regiments, a military airplane salute, marching bands, farm animals, choirs, racehorses, camels, dancers, and floats.
Other Birthday Treats
Another birthday gift for the Queen Mother included the chance she may receive her own honors list, dispensing honors to those she wished to recognize. Normally, only the Queen awards honors on New Year's Day and on her official birthday.