/ Sports
/ Olympics
Memorable Olympic Moments: Cassius Clay
Updated February 21, 2017 |
Factmonster Staff

Before Muhammad Ali, Cassius Clay achieved Olympic glory
by Gerry Brown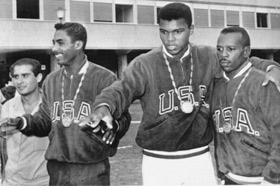 Cassius Clay as a light heavyweight (second to right), flanked by medallists Wilbert McClure and Edward Crook at the Rome Olympics in 1960. (Source: AP)
Related Links
"The Greatest" made his debut on the world stage as a light heavyweight in 1960.
Cassius Clay, who as Muhammad Ali, was soon to be the most famous sports figure in the world, was just another promising young American boxer at the Games in Rome. The shy 18-year-old's furious flurries and fleet-footed elusiveness proved too much for Polish slugger Zbigniew Pietrzykowski in the light-heavyweight gold medal match and Clay won gold on a unanimous decision.
Clay, who started boxing as a youth in his hometown of Louisville, Ky. after another boy stole his bicycle, was so proud of his gold medal that he didn't take it off for two days.