/ Sports
/ Olympics
Memorable Olympic Moments: Jim Thorpe, Stockholm 1912
Updated February 21, 2017 |
Factmonster Staff

All-American Jim Thorpe also happened to be Native American
by Gerry Brown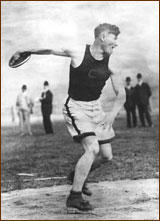 Jim Thorpe competes in the pentathalon competition in Stockholm, 1912. (Source: Allsport)
Related Links
Jim Thorpe startled the world in 1912. As part of the U.S. delegation competing at the 1912 Summer Games in Stockholm, he pulled off one of the most impressive sporting feats in history, simply destroying the world's best in the decathlon and pentathlon. Perhaps the greatest all-around athlete of all time, Thorpe, a Sac and Fox Indian, bested his competitors by enormous margins, finishing first in nine of the 15 separate track and field events that made up the two competitions.
Thorpe was a track and football star under legendary coach Pop Warner at Carlisle Institute, a vocational school for Native Americans, before and after his trip to Stockholm. On the boat trip over to Sweden the naturally gifted Thorpe mostly napped while his teammates trained. At the Games' closing ceremonies King Gustav V told him, "Sir, you are the greatest athlete in the world!" To which Thorpe reportedly replied, "Thanks, king."
In 1913, Thorpe was stripped of his two gold medals after the Amateur Athletic Union found out that he played for a minor-league baseball team from 1909–10. Plenty of amateur athletes played professional ball in those days, but did so under assumed names. Thorpe's mistake was owning up to it and ironically, it would come out years later that Thorpe and his teammates at Carlisle were paid more for playing college football than for professional baseball. Not until 1982, almost 30 years after his death, was Thorpe given back his standing as a two-time Olympic gold medallist.