/ Sports
/ Olympics
Memorable Olympic Moments: NBA Dream Team, Barcelona 1992
Updated February 21, 2017 |
Factmonster Staff

Every NBA fan's dream turns to gold
by John Gettings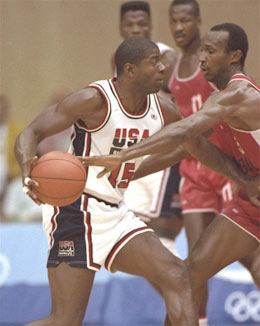 Magic Johnson drives by Angola's Anibal Moreira at the Barcelona Olympics in 1992. (Source:AP)
Related Links
It was every NBA fan's dream come true. An international basketball rule change in 1989 paved the way for professional basketball players to compete in the Olympics for the first time at Barcelona in 1992. The only thing more fun than assembling a team of current NBA stars to represent the United States was watching them play.
Basketball Legends Johnson, Bird
Led by coach Chuck Daly and assistants Lenny Wilkens, P.J. Carlesimo and Mike Kryzyzewski, the first Olympic "Dream Team" was immediately favored to win gold. The team featured stars like John Stockton, Scottie Pippen, Clyde Drexler, and David Robinson. And that was the bench!
It was instant magic when legends like Magic Johnson, Larry Bird, Michael Jordan, Charles Barkley and Karl Malone took the floor.
Even Practices Made News
The team dominated headlines as well as the competition. Everywhere they went, the media followed. And the animated, trash-talking practices were sometimes bigger news than the games. In their first Olympic game together, the Dream Team trounced Angola 116-48 and never looked back, going 8-0 en route to the gold.
They were the only undefeated team in the tournament, averaging an Olympic record of 117.3 points a game. They won their games by an average of 43.8 points and the closest any opponent could come was 32 points (Croatia in the gold medal final).
"You will see a team of professionals in the Olympics again," said Daly. "But I don't think you'll see another team quite like this. This was a majestic team."