Super Bowl XXXIII: And Now, a Word from Our Sponsors...
Updated February 21, 2017 |
Factmonster Staff

From the Spotlight Archive:
This feature appeared in January 25, 1999
And Now,
A Word From Our Sponsors...
Fox is boasting record numbers in advertising sales for Super Bowl XXXIII
---
So who will be the big winner this year? As has been the case with past Super Bowls, the costly and often cutting-edge commercials shown on Super Sunday are possibly more anticipated than the actual game between the Atlanta Falcons and the Denver Broncos. Many fans that tune into the game from year to year neither remember nor care about the score of last year's Denver win over Green Bay, or the prior year's Packer win over New England — but ask them about dancing bears, flying geese, babies ogling super models, or talking lizards and frogs and they'll be right there with the sponsoring company and the year it was first shown.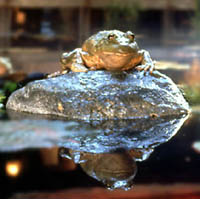 This year, Fox's Super Bowl telecast begins at 11 a.m. ET. No, that's not a misprint. Kickoff is set for 6:18, allowing for a whopping seven-plus hours of pre-game hype. Fox, who recently inked a brand new eight-year deal worth $550 million a year for the rights to show NFC games, should recoup some of that expense by taking in an estimated $150 million in advertising revenue over the course of the entire day. Almost one third of that amount (a reported $45 million) will be from pre-game advertisers, a substantial increase from the $10-15 million garnered by NBC during last year's paltry three-hour pre-game show.


Next