Thanksgiving Traditions: A Presidential Pardon
Updated February 21, 2017 |
Factmonster Staff

The turkey that lives to see another day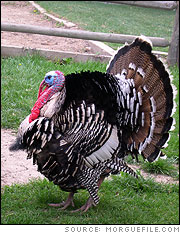 Related Links
Origins
Each year since 1947, the National Turkey Federation and the Poultry and Egg National Board have given a turkey to the President of the United States at a White House ceremony. Since then, presidents have been more likely to eat the turkey rather than give it a reprieve. A notable exception occurred in 1963, when President Kennedy, referring to the turkey given to him, said, "Let's just keep him." It wasn't until the first Thanksgiving of President George H.W. Bush, in 1989, that a turkey was officially pardoned for the first time.
Confusing the Practice
Presidents Bill Clinton, George W. Bush, and Barack Obama continued the pardons begun under the first Bush. Some confusion about the true origin of this practice has crept into recent presidential speeches though. One story claims that Harry Truman pardoned the turkey given to him in 1947, but the Truman Library has been unable to find any evidence of this. Another story claims the tradition dates back to Abraham Lincoln pardoning his son Tad's pet turkey.
From Frying Pan Park to Disneyland
What's certain is that since 1989 a turkey—and its alternate—have been pardoned each year. An alternate is chosen just in case the first bird is unable to perform its duties. For fifteen years through 2004, the turkeys were given to Kidwell Farm, a petting zoo at Frying Pan Park in Herndon, Virginia. The turkeys would receive a last minute pardon before arriving, and were then led to their new home at the Turkey Barn after enduring a turkey "roast" full of poultry humor and history.
In 2005 and 2006, however, the turkeys were flown to Disneyland in California where they served as honorary grand marshals for Disneyland's Thanksgiving Day parade. After that, they spent the rest of their lives at a Disneyland ranch. A spot in sunny Disneyland seems immensely preferable to a place called Frying Pan Park if you happen to be a turkey who has just escaped from becoming the main course of someone's Thanksgiving feast.
On Wednesday, November 27, 2013, President Obama gave two turkeys named Popcorn and Caramel a last-minute reprieve. Obama made light of the event. "The office of the presidency - the most powerful position in the world - brings with it many awesome and solemn responsibilities," he said. "This is not one of them."
Recent Recipients of the Presidential Pardon
2007: May and Flower
2008: Pumpkin and Pecan
2009: Courage and Carolina
2010: Apple and Cider
2011: Liberty and Peace
2012: Cobbler and Gobbler
2013: Popcorn and Caramel
2014: Mac and Cheese
2015: Abe and Honest
2016: Tater and Tot