/ U.S.
Rhode Island
State abbreviation/Postal code: R.I./RI
Governor: Gina Raimondo, D (to Jan. 2019)
Lieut. Governor: Daniel McKee, D (to Jan. 2019)
Senators: Jack Reed, D (to Jan. 2021); Sheldon Whitehouse, D (to Jan. 2019)
Historical biographies of Congressional members
Secy. of State: Nellie Gorbea, D (to Jan. 2019)
Atty. General: Peter Kilmartin, D (to Jan. 2019)
General Treasurer: Seth Magaziner, D (to Jan. 2019)
Entered Union (rank): May 29, 1790 (13)
Present constitution adopted: 1843
Motto: Hope
| | |
| --- | --- |
| flower | violet (unofficial) (1968) |
| tree | red maple (official) (1964) |
| bird | Rhode Island red hen (official) (1954) |
| shell | quahog (official) |
| mineral | bowenite (1966) |
| stone | cumberlandite (1966) |
| colors | blue, white, and gold (in state flag) |
| song | "Rhode Island, It's for Me" (1996) |
Official name: The State of Rhode Island and Providence Plantations
Nickname: The Ocean State
Origin of name: From the Greek Island of Rhodes
Largest cities (2010 est.): Providence, 178,042; Warwick, 82,672; Cranston, 80,387; Pawtucket, 71,148; East Providence, 47,037; Woonsocket, 41,186; Newport, 24,672; Central Falls, 19,376
Land area: 1,214 sq mi (3,144 km2)
Geographic center: In Kent Co., 1 mi. SSW of Crompton
Number of counties: 5
Largest county by population and area: Providence, 626,667 (2010); Providence, 413 sq mi.
State parks: 14
Residents: Rhode Islander
2015 resident population est.: 1,056,298
2010 resident census population (rank): 1,052,567 (43). Male: 508,400 (48.3%); Female: 544,167 (51.7%). White: 856,869 (81.4%); Black: 60,189 (5.7%); American Indian: 6,058 (0.6%); Asian: 30,457 (2.9%); Other race: 63,653 (6.0%); Two or more races: 34,787 (3.3%); Hispanic/Latino: 130,655 (12.4%). 2010 population 18 and over: 78.7%; 65 and over: 14.4%; median age: 39.4.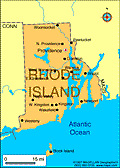 From its beginnings, Rhode Island has been distinguished by its support for freedom of conscience and action: Clergyman Roger Williams founded the present state capital, Providence, after being exiled by the Massachusetts Bay Colony Puritans in 1636. Williams was followed by other religious exiles who founded Pocasset, now Portsmouth, in 1638 and Newport in 1639.
Rhode Island's rebellious, authority-defying nature was further demonstrated by the burnings of the British revenue cutters Liberty and Gaspee prior to the Revolution; by its early declaration of independence from Great Britain in May 1776; by its refusal to participate actively in the War of 1812; and by Dorr's Rebellion of 1842, which protested property requirements for voting.
Rhode Island, smallest of the 50 states, is densely populated and highly industrialized. It is a major center for jewelry manufacturing. Electronics, metal, plastic products, and boat and ship construction are other important industries. Non-manufacturing employment includes research in health, medicine, and the ocean environment. Providence is a wholesale distribution center for New England.
Fishing ports are at Galilee and Newport. Rural areas of the state support small-scale farming, including grapes for local wineries, turf grass, and nursery stock. Tourism generates over a billion dollars a year in revenue.
Newport became famous as the summer capital of high society in the mid-19th century. Touro Synagogue (1763) is the oldest in the U.S. Other points of interest include the Roger Williams National Memorial in Providence, Samuel Slater's Mill in Pawtucket, the General Nathanael Greene Homestead in Coventry, and Block Island.
In January 2013, the Rhode Island House of Representatives passed a bill to legalize same-sex marriage. The vote to pass the bill was 51 to 19. The State Senate would consider the bill in the spring of 2013. As of early 2013, Rhode Island was the only state in New England where same-sex marriage had not been legalized.
See more on Rhode Island:
Encyclopedia: Rhode Island
Encyclopedia: Geography
Encyclopedia: Economy
Encyclopedia: Government
Encyclopedia: History
Monthly Temperature Extremes
All U.S. States: Geography & Climate
Printable Outline Maps
Record Highest Temperatures
Record Lowest Temperatures
Highest, Lowest, and Mean Elevations
Land and Water Area
All U.S. States: Population & Economy
Historical Population Statistics, 1790–Present
Per Capita Personal Income
Minimum Wage Rates
State Taxes
Federal Government Expenditure
Percent of People in Poverty
Births and Birth Rates
Homeownership
Percentage of Uninsured by State
All U.S. States: Society & Culture:
Most Livable States
Healthiest States
Most Dangerous States
Smartest States
Crime Index
Residency Requirements for Voting
Compulsory School Attendance Laws
Driving Laws
National Public Radio Stations
Selected famous natives and residents: