/ John McCain: Campaign Issues
John McCain: Campaign Issues
Updated February 21, 2017 |
Factmonster Staff

Where he stands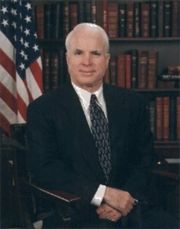 Related Links
Iraq
Favors deploying more troops.
Strengthen Iraqi armed forces and police.
Keep senior officers in place.
Call for international pressure on Syria and Iran to get involved to help stabilize Iraq.
Implement new counterinsurgency strategy.
Accelerate political and economic reconstruction.
Energy/Environment
Encourage developing nations, China, and India to join with other countries to reduce emissions of greenhouse gases
Implement a mandatory cap-and-trade system to reduce carbon emissions
Seek ways to eliminate U.S. dependence on foreign oil
Limit carbon emissions by harnessing market forces that will bring advanced technologies, such as nuclear energy, to the market faster
Immigration
Vows to secure U.S. borders
Supports a temporary worker program
Recognize the importance of the assimilation of our immigrant population, which includes learning English, American history and civics, and respecting the values of a democratic society
Health care
Allow national insurance companies to sell across state borders.
Foster development of routes for safe, cheaper generic drugs and biologic pharmaceuticals; safety protocols to permit re-importation.
Eliminate bias for employer-sponsored health insurance, and $2,500 Health Insurance Credit for individuals ($5,000 for families).
Portable insurance.
Give veterans access to local physicians.
Require states receiving Medicaid to develop financial "risk adjustment" bonus to high-cost and low-income families.
Individual insurance through any organization or association.
Promote competition in health care system.
Taxes
Tax cuts for middle class families; repeal Alternative Minimum Tax.
Make Bush income and investment tax cuts permanent.
Permanent R&D tax credit.
Education
Tax deductions for college tuition.
Favors school choice: vouchers, charters, home-schooling.
Tax-free savings accounts for education expenses.