/ Rick Perry: Campaign Issues 2012
Rick Perry: Campaign Issues 2012
Updated February 21, 2017 |
Factmonster Staff

Where he stands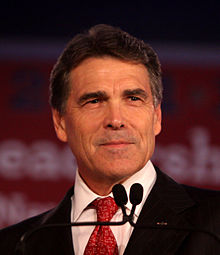 Related Links
Healthcare
Perry opposes Obama's healthcare reform and wants to overturn it, calling the so-called Obamacare "the greatest intrusion on individual freedom in a generation."
In calling for the repeal of the new healthcare legislation, Perry has called for block grants, ending mandates, and innovation at the local level.
He said he will introduce medical liability reforms, similar to those implemented in Texas, that have reduced the number of frivolous lawsuits and increased the number of practicing physicians in Texas.
Economy
A staunch fiscal and social conservative, Perry has vowed not to increase taxes and will cut them for small businesses.
Perry has said he will make job creation a priority of his administration. As of August 2011, Texas has the highest rate of job growth in the country.
Says he will work to reduce the deficit and cut spending and order a reform of entitlement programs.
In August 2011, after the Federal Reserve announced measures to boost the economy, including keep interest rates low for two more years and buying bank securities with new money, Perry said, referring to Fed chairman Ben Bernanke: "If this guy prints more money between now and the election. I don't know what y'all would do to him in Iowa, but we would treat him pretty ugly down in Texas."
Immigration
Perry is against "sancutary cities" for illegal immigrants and favors legislation that would allow local officers to request information on a person's immigration status. Sanctuary cities typically do not use municipal money to enforce federal immigration laws.
He favored a Texas law that allows the children of illegal immigrants to pay in-state tuition rates at Texas colleges and universities.
As governor of Texas, Perry increased security operations along the border with Mexico and increased funding for border security.
Wants to protect the border from Mexican drug cartels.
Energy/Environment
As governor of Texas, Perry endorsed giving $5,000 to residents who buy plug-in hybrid vehicles.
He believes in exploring untapped domestic oil resources. He signed legislation that accelerated the construction of 11 new coal plants.
He called global warming "all one contrived phony mess that is falling apart under its own weight."
He opposes a cap-and-trade energy tax.
Same-sex marriage
Perry strongly opposes same-sex marriage and civil unions.
Favors a constitutional amendment banning same-sex marriage.