/ Mississippi
Mississippi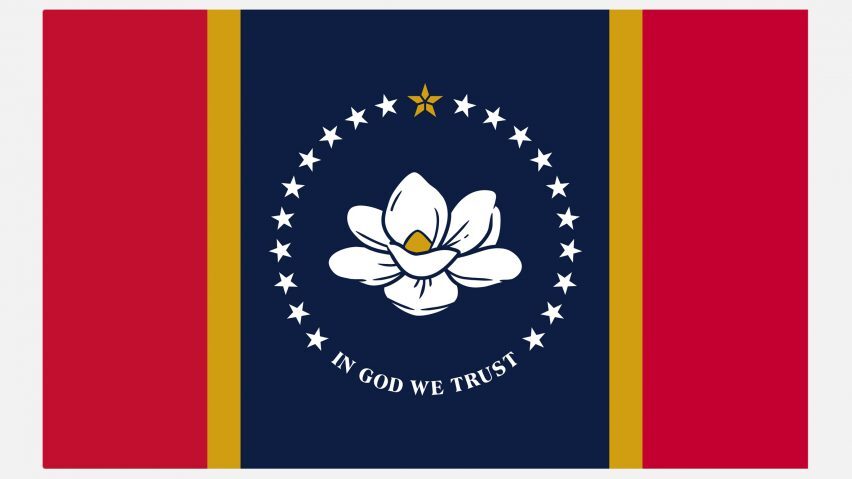 Mississippi State Facts
Organized as territory: April 7, 1798
Entered Union: Dec. 10, 1817 (20th State)
Present constitution adopted: 1890
Fun Facts
State abbreviation/Postal code: Miss./MS
Nickname: Magnolia State
Origin of name:  From an Ojibwe word meaning "Great River," sometimes rendered "Father of Waters"
Motto: "Virtute et armis" (By valor and arms)
State symbols:
Bird: Northern mockingbird (1944)
Butterfly: Spicebush butterfly (1991)
Fish: Largemouth bass (1974)
Insect: Western honey bee (1980)
Land Mammal: White-tailed Deer (1974)
Marine Mammal: Bottlenose Dolphin (1974)
Reptile: American alligator (1987)
Waterfowl: Wood duck (1974)
Flower: Magnolia
Tree: Southern magnolia
Fossil: Eastern oyster (1974)
Stone: Petrified wood (1976)
Song: "Go, Mississippi" (1962)
Government
Capital: Jackson
State Website: www.ms.gov
Governor: Phil Bryant, R (to Jan. 2020)
Lieut. Governor: Tate Reeves, R (to Jan. 2020)
Secy. of State: Delbert Hosemann, R (to Jan. 2019)
Treasurer: Lynn Fitch, R (to Jan. 2019)
Atty. General: Jim Hood, D (to Jan. 2019)
U.S. Representatives: 4
Senators: Cindy Hyde-Smith, R (to Jan. 2021); Roger Wicker, R (to Jan. 2025)
See Also: Historical biographies of Mississippi Congress members
Population
Residents: Mississippian
Resident population: 2,992,333 (34th Largest State, 2016)
10 largest cities (2012): Jackson, 175,437; Gulfport , 70,113; Southhaven, 50,374 Hattiesburg , 47,169; ; Biloxi, 44,578; Meridian, 40,832; Tupelo, 35,490; Greenville, 33,418; Olive Branch, 34,485124; Horn Lake 26,529
Race/Ethnicity: White (59.1%); Black (37.0%); American Indian (0.5%); Asian (0.9%); Other race (1.3%); Two or more races (1.1%); Hispanic/Latino (2.7%).
Religion: Protestant (77%); No religion/Unaffiliated (14%); Catholic (4%); Mormon (1%); Other (3%).
Sex: Male (48.6%); Female (51.4%).
Age: Under 18 (23.2%); 18-64 (64.6%); 65 and over (12.8%). Median Age: 36.0.
See Also: Additional Mississippi Census Data
Economy
GDP: 111 billion dollars (37th in U.S., 2017)
Unemployment: 5.3% (2017)
Overview: Mississippi is a largely agricultural state. The state was slow to invest in industry while cotton prices were high in the early modern era, but the state is undergoing efforts to develop its manufacturing sector. Mississippi is a major state for gambling.
Geography
Land area: 46,907 sq mi. (121,489 sq km)
Geographic center: In Leake Co., 9 mi. WNW of Carthage
Number of counties: 82
Largest county by population and area: Hinds, 245,285 (2010); Yazoo, 920 sq mi.
State parks: 24
Area codes
Tourism office
See more on Mississippi:
Encyclopedia: Mississippi
Encyclopedia: Geography
Encyclopedia: Economy
Encyclopedia: Government
Encyclopedia: History
Monthly Temperature Extremes
Mississippi State History
First explored for Spain by Hernando de Soto, who discovered the Mississippi River in 1540, the region was later claimed by France. In 1699, a French group under Sieur d'Iberville established the first permanent settlement near present-day Ocean Springs.
Great Britain took over the area in 1763 after the French and Indian Wars, ceding it to the U.S. in 1783 after the Revolution. Spain did not relinquish its claims until 1798, and in 1810 the U.S. annexed West Florida from Spain, including what is now southern Mississippi.
Mississippi was one of the largest slave states in the country, building up most of its economy around plantation agriculture. The Civil War disrupted the profitable (for slaveowners) economy, and much of the economic growth after the War is attributable to freed slaves who cleared land for farming and development. They were able to work to ownership of the land, and at its peak a majority of farms were owned by black farmers. However, natural challenges, falling cotton prices, and racial enmity led to many of those farmers losing their farms by the 1930s and 1940s. The economic disparities and challenges in Mississippi contributed to making the state a hotbed of activity during the civil rights movement. Most famously, Mississippi saw the assassinations of Medgar Evers and Emmett Till. 
For a little more than one hundred years, from shortly after the state's founding through the Great Depression, cotton was the undisputed king of Mississippi's largely agrarian economy. Today, agriculture continues as a major segment of the state's economy. For almost four decades soybeans occupied the most acreage, while cotton remained the largest cash crop. In 2001, however, more acres of cotton were planted than soybeans, and Mississippi jumped to second in the nation in cotton production (exceeded only by Texas).
The state abounds in historical landmarks and is the home of the Vicksburg National Military Park. Other National Park Service areas are Brices Cross Roads National Battlefield Site, Tupelo National Battlefield, and part of Natchez Trace National Parkway. Pre-Civil War mansions are the special pride of Natchez, Oxford, Columbus, Vicksburg, and Jackson.
On Aug. 29, 2005, Mississippi was hit by Hurricane Katrina, killing hundreds, mostly in Harrison County.
Mississippi Culture and Interesting Facts
A Birthplace of Blues
Although the exact origin of blues music is unknown, there's a good case to be made that it began in Mississippi. Music that was distinctly what we'd now call "blues" came about in the late 1800s or early 1900s in the Deep South. Blues combines traditional elements from African music, black American work songs and spirituals, and to a lesser extent folk music. Due to a lack of records—before jazz took off and won global acclaim in the 1920s and 1930s, historians weren't interested in studying or recording art from the black community—we'll probably never know for sure the first place the blues were performed. But, even if it wasn't played for the first time ever in Mississippi, the state has still had a major impact on the development of the genre. Performers in the Mississippi Delta established a lot of the touchstones of the genre, and great blues pioneer Howlin' Wolf grew up in this area. These blues forms would become highly influential in the creation of jazz, R&B, and rock and roll music. Today, the state is trying to create a historic trail connecting important sites in the history of the blues. 
Heart of the Bible Belt
Mississippi is arguably the most religious state in the United States. 83% of Mississippians are members of a Christian faith, and a full 89% say that religion plays and important part in their daily lives. These numbers come second to those in Alabama and Louisiana. And, a Gallup poll indicated that Mississippians come second only to people from Utah in terms of weekly church attendance. Mississippi has a few other measures of religiosity in which it exceeds all other states. Mississippi has the nation's most churches per capita, and the country's largest bible producer is located in Mississippi. 
Natchez, Mississippi
Natchez, Mississippi is a popular tourist destination for people interested in the architecture and history of the Antebellum South. The town has dozens of famous mansions that are seen as ideal examples of Southern architecture, and in-all has a few hundred preserved historical sites. There are other preserved mansion sites in Oxford and Vicksburg, but the Natchez sites are arguably the most famous.
Famous Mississippi Natives and Residents