/ Chile
/ history
Chile History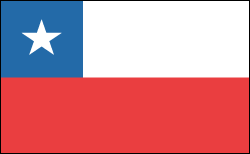 Index
History
President Pinochet Presides Over a Ruthless Regime
The coup was led by a four-man junta headed by Army Chief of Staff Augusto Pinochet, who eventually assumed the office of president. Committed to eliminating Marxism the junta suspended parliament, banned political activity, and severely curbed civil liberties. Pinochet's brutal dictatorship led to the imprisonment, torture, disappearances, execution, and expulsion of thousands of Chileans. A government report in 2004 indicated that almost 28,000 people had been tortured during his rule, and at least 3,200 murders and disappearances had taken place.
The economy, in tatters under Allende's Socialist revolution, gradually improved after Chile's return to privatization under Pinochet. In 1989, Pinochet lost a plebiscite on whether he should remain in power. He stepped down in Jan. 1990 in favor of Patricio Aylwin. In Dec. 1993, Eduardo Frei Ruiz-Tagle, the candidate of a center-left coalition and son of a previous president, was elected president.
Pinochet, who had retained his post as army commander in chief after the 1989 plebiscite, retired in March 1998. In Oct. 1998, he was arrested and detained in England on an extradition request issued by a Spanish judge who sought Pinochet in connection with the disappearances of Spanish citizens during his rule. British courts ultimately denied his extradition, and Pinochet returned to Chile in March 2000. He died in Dec. 2006 at age 91, before facing trial for the abuses of his 17-year dictatorship.
---