/ Historic Vote in Southern Sudan
Historic Vote in Southern Sudan
Updated February 21, 2017 |
Factmonster Staff

In a weeklong referendum, voters choose independence
By Jennie Wood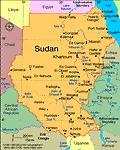 Map of Sudan
before the split
Related Links
In a historic seven-day referendum that began in southern Sudan on January 9, 2011, voters were offered two choices: continued unity with northern Sudan or secession to become a new state. Nearly 99 percent voted in favor of a split from northern Sudan in the internationally approved referendum. The referendum was a provision of the 2005 Comprehensive Peace Agreement, which ended a 22-year civil war that killed 2.5 million people and displaced 4 million.
The civil war grew out of decades of hostility between the Arab-dominated government and Muslims in the north and the African tribal populations and Christians in the south. While Sudan's president, Omar al-Bashir, has said repeatedly that he will accept the results of the referendum, he has a reputation as an untrustworthy arbitrator. When the north and south negotiated the Comprehensive Peace Agreement, President al-Bashir allegedly began a genocidal against Muslims in Darfur, a western region of Sudan. He has since been indicted for war crimes by the International Criminal Court.
The Bush administration negotiated the 2005 Comprehensive Peace Agreement, which in addition to setting the date of the referendum also called for people in the contested region of Abyei to participate in the vote. That vote, however, has been delayed because a decision on what constitutes a resident of Abyei has not been reached. Tribal leaders in the region have made it clear that their loyalty lies with the south, but there has not been a date set for a vote in Abyei. Any declaration of affiliation with the south by Abyei could trigger an attack from the north. Abyei sits between northern and southern Sudan and has historically served as a bridge between the two. When voting began in southern Sudan, at least 23 people died in Abyei, confirming speculation that the region continues to be a matter of contention. In May 2011, armed forces from Sudan seized control of Abyei, which the South Sudanese government called an act of war. Over 20,000 people fled and the United Nations sent an envoy to intervene.
In July 2011, after years of fighting, the Republic of South Sudan declared its independence and became Africa's 54th state. Thousands celebrated in the streets of South Sudan's capital, Juba. Salva Kiir, South Sudan's president, signed the interim Constitution. However, even as South Sudan celebrated its independence, Abyei's uncertainty was only one obstacle that awaits the fledgling state. South Sudan becomes one of the poorest countries in the world with half of the population living on less than $1 per day and an adult literacy rate of less than 25%. South Sudan also needs to establish a new government and constitution. The southern Sudanese can look to recent history to prove it can be done. In February 2008, Kosovo declared its independence from Serbia. Prior to that, the last country to gain independence on the basis of referendum was Montenegro in June 2006.