/ Turkey
/ News and current events
Turkey News & Current Events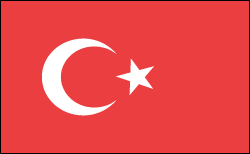 Index
News and Current Events
Oppression of Kurds and Kurdish Culture and Deadly Clashes
About 12 million Kurds, roughly 20% of Turkey's population, live in the southeast region of Turkey. Turkey, however, does not officially recognize Kurds as a minority group and is therefore exempted from protecting their rights. Oppression of Kurds and Kurdish culture led to the emergence in 1984 of the Kurdistan Workers' Party (PKK), a militant Kurdish terrorist campaign under the leadership of Abdullah Ocalan. Although the guerrilla movement sought independence at first, by the late 1980s the rebel Kurds were willing to accept an autonomous state or a federation with Turkey. About 35,000 have died in clashes between the military and the PKK during the 1980s and 1990s. On Feb. 16, 1999, Ocalan was captured. He was tried and convicted of treason and separatism on June 2, 1999, and sentenced to death.
On Aug. 17, 1999, western Turkey was devastated by an earthquake (magnitude 7.4) that left more than 17,000 dead and 200,000 homeless. Another huge earthquake struck in November.
Construction on a $3 billion, 1,000-mile oil pipeline running from Baku, Azerbaijan, to the Mediterranean port city of Ceyhan began in Sept. 2002. The pipeline opened in July 2006.
In Nov. 2002 elections, the recently formed Justice and Development Party (AK) won. Its leader, Recep Tayyip Erdogan, was barred from becoming prime minister, however, because of a conviction for ?inciting religious hatred? by reciting an Islamic poem at a rally in 1998. Another popular AK leader, Abdullah Gul, served as prime minister until Turkish law was amended to permit Erdogan to run for a seat in parliament again, which he easily won. Gul resigned as prime minister, making way for Erdogan.
In March 2003, U.S.-Turkish relations were severely strained when Turkey's parliament narrowly failed to pass a resolution permitting the U.S. to use Turkish bases as a launching pad for the pending war against Iraq. Turkish opinion polls reported that an overwhelming 90% of Turks were against war in Iraq, but the U.S. had promised the country much-needed economic aid.
Terrorism; Attempts to Improve the Government
In Nov. 2003, two terrorist attacks rocked Istanbul. On Nov. 17, truck bombs exploded near two synagogues; on Nov. 22, the British Consulate and a British bank were targeted. More than 50 were killed and hundreds were wounded in the attacks; al-Qaeda is believed to be responsible.
In an effort to make itself more attractive for potential EU membership, Turkey has begun revamping some of its repressive laws and policies. In 2003, its parliament passed a law reducing the military's role in political life and offered partial amnesty to PKK members, many of whom have sought refuge in northern Iraq. In 2004, Turkish state television broadcast the first Kurdish language program and the government freed four Kurdish activists from prison. Turkey also abolished the death penalty in all but exceptional cases.
In April 2007, Prime Minister Erdogan nominated Foreign Minister Abdullah Gul, an Islamist, as the ruling party's candidate for president over the objections of the military, which has historically been protective of a secular state. Gul, however, failed to win the necessary two-thirds majority in parliament, and a constitutional court later nullified the vote, citing a lack of a quorum. Many secularists in parliament, who accused Gul of harboring an Islamist agenda, boycotted the vote. Gul withdrew from the race in May. Gul was victorious in the third round of elections in August.
Turkey recalled its ambassador to the United States and threatened to withdraw its support of the war in Iraq in October after the U.S. House Foreign Relations Committee passed a resolution labeling as genocide Turkey's murder of some 1.5 million Armenians during World War I. President George Bush strongly urged members of the committee to vote against the resolution.
Tension between Turkey and Iraq peaked in October, as Kurdish separatists in Iraq, members of the Kurdistan Workers Party (PKK), escalated their attacks into Turkey. In response, Turkey's Parliament voted, 507 to 19, to allow the deployment of troops into northern Iraq. U.S. and Iraqi officials feared a war on another front in Iraq would further destabilize the already fragile country. In December, Turkish fighter jets, with the help of the U.S. military, bombed areas in Dohuk Province in northern Iraq, targeting the (PKK). Turkish troops resumed their attacks on Dohuk Province in February 2008, killing as many as 160 PKK fighters, who claimed to have killed as many Turkish troops.
In January 2008, police arrested 13 ultranationalists, including three former military officers, who were accused of organizing and carrying out political murders. One of the officers, Veli Kucuk, is suspected of running a secret unit within the police force that orchestrated political violence against religious and ethnic minority groups.
Improvements for Civil Rights and the Secular Movement
In February 2008, Parliament voted in favor of a measure put forth by Prime Minister Erdogan that would lift the ban on women wearing headscarves in universities. Secular lawmakers voted overwhelmingly against the laws, concerned that their secularism faced attack by the conservative government. In June, the Constitutional Court, Turkey?s highest court, overturned the measure, saying it violated secularist principles inherent in the country?s constitution.
On July 14, 2008, 86 people, who are suspected to be part of a secular organization called Ergenekon, were charged with attempting to overthrow the current AKP government. The attempted coup was exposed in June 2007. On October 20, 2008, the court began a public trail of the suspects.
On July 30, 2008, Turkey's 11-member Constitutional Court fell one vote short of banning the Justice and Development party for violating the country's secular constitution. The court did rule, however, to reduce by one-half the party's public financing.
After nearly 100 years of hostility between Turkey and Armenia over the murder of 600,000 to 1.5 million Armenians at the hands of Ottoman Turks during World War I, the two countries agreed in October 2009 to establish diplomatic relations and reopen the border between them. Both parliaments must approve the deal.
Turkey Takes on Bigger Role on the World Stage
In May 2010, as the U.S. and other members of the Security Council were negotiating the language and terms of a fourth round sanctions against Iran for continuing to enrich uranium and refusing to open its facilities to weapons inspectors, Iran agreed to send 2,640 pounds of enriched uranium to Turkey in exchange for uranium enriched to 20% that can be used in a reactor that creates isotopes for medical use?a deal strikingly similar to the one Iran reneged on in October 2009. Turkey and Brazil brokered the agreement. Both countries were criticized for interfering with the sanctions process and accused of attempting to increase their presence on the world stage.
In late May 2010, an activist group, Free Gaza Now, and a Turkish humanitarian organization, Insani Yardim Vakfi, sent a flotilla of aid to Gaza, a violation of a blockade that Israel and Egypt imposed on Gaza in 2007. The move was an apparent attempt to further politicize the blockade. In the early hours of May 31, Israeli commandos boarded one of the ships, and there are conflicting accounts of what happened next. The Israelis say the commandos were attacked with clubs, rods, and knives, and that they fired upon the activists in retaliation; the activists say the commandos opened fire when they landed on deck. Nine Turkish activists were killed in the conflict.
In a September 2010 referendum, voters approved several constitutional changes that will give Parliament increased oversight of the judiciary and the military, diminishing the power of both and introducing wider democratic freedoms to Turkey's citizens. The vote, 58% to 42%, was considered a referendum on the leadership of Prime Minister Erdogan.
Recep Tayyip Erdogan's Justice and Development Party (AKP) won a third term in June 2011. Voter turnout was 84.5% in a general election that gave the ruling party 326 seats in parliament?41 seats shy of the two-thirds majority needed to amend the country's constitution unilaterally. The secular Republican People's Party (CHP) had 26% of vote and the far-right Nationalist Movement Party (MHP) 13%. In his victory speech, Mr. Erdogan pledged to work with opposition parties, which criticized him before the election for his divisive ruling style.
The publication in September 2011 of a UN report on the attack on the Turkish flotilla further frayed relations between Turkey and Israel. The report concluded that Israel's blockade of Gaza was legal but that Israel used "excessive and unreasonable" force when boarding the ships. It also called on Israel to apologize and compensate victims. Israeli prime minister Benjamin Netanyahu, however, said he would not issue a statement of regret. In response, Turkey ejected the Israeli ambassador and severed defense ties with Israel.
In October, PKK militants killed two dozen Turkish troops near the border with Iraq. In response, Turkey launched a large-scale offensive, deploying about 10,000 troops and warplanes into Kurd strongholds in northern Iraq. Tension had been building for months, with the militants increasing their attacks.
7.2 Magnitude Earthquake Hits Turkey
On October 23, 2011, an earthquake, measured at 7.2 in magnitude, struck Turkey in Van Province, near the border of Iran. The death toll quickly rose to more than 360 and was expected to climb higher. Rescue teams worked quickly to find survivors in more than 2,260 buildings that had collapsed from the earthquake. More than 1,300 were injured in what was one of the strongest earthquakes to hit the area in recent years.
More than 50 countries offered aid, including Israel, despite strained relations between the two countries. Officials in Turkey denied reports that the government refused Israel's offer. In the days immediately following the earthquake, the Turkish Government said that it planned to build 3,000 houses and would postpone residents' tax collections for a full year.
Relations Between Syria and Turkey Deteriorate
Turkey, once a close ally of Syria, threw its support behind opposition groups during the uprising against Syrian president Bashar al-Assad, which began in March 2011. Turkey endorsed the Syrian National Council, an organization of dissidents and opposition leaders, and allowed members of the Free Syrian Army to set up camp within its borders.
Relations between Syria and Turkey deteriorated in 2012, reaching a nadir in the fall. In October, a cross-border mortar attack from Syria killed five Turkish civilians, and Turkey launched retaliatory attacks on targets in Syria. The following day, the Turkish Parliament passed a motion that authorized military action as long as Syria continued to shell Turkey. If the fighting does persist, NATO may intervene to protect Turkey, a member nation. The Turkish government said it did not want to go to war with Syria, but it would protect its borders as necessary militarily.
PKK Leader Declares Cease-fire
On March 13, 2013, the Kurdistan Workers' Party (PKK) released eight Turkish soldiers and civil servants. The captives were kidnapped in 2011 and 2012 and held by the Kurdish militants in the mountains of northern Iraq. The PKK has been using forms of guerrilla warfare against Turkey for almost three decades.
After months of talks with the Turkish government, imprisoned PKK leader Abdullah Ocalan in March 2013 declared a cease-fire and ordered Kurdish fighters to withdraw from Turkey and retreat to Iraq's autonomous Kurdistan region. "We have reached the point where weapons should be silent and ideas and politics should speak," he said in a statement. The announcement was considered a historic breakthrough. Optimism for peace was short-lived, however, and the cease-fire fell apart in September. The PKK claimed that the Turkish government had not followed through on promises to negotiate with the Kurds. In October, Erdogan unveiled a package of reforms in late September aimed at reopening a dialogue with the Kurds. The reforms included lifting a ban on teaching the Kurdish language in private schools, allowing villages to reclaim their Kurdish names, and making it easier for Kurds to be elected to parliament. Many Kurds, however, said the reforms did not go far enough. In particular, they bemoaned the fact that the reforms did not include revising the country's anti-terrorism laws, which have landed thousands of Kurdish activists in jail. In addition, the package included returning confiscated property to Syriac Orthodox Christians and easing restrictions on women wearing headscarves in public. Many believe the package was an attempt by Erdogan to restore confidence among Turks ahead of 2014 elections.
Israel Formally Apologies to Turkey for 2010 Commando Raid
In mid-March 2013, President Obama visited Israel. During the visit, he helped negotiate a reconciliation with Turkey. Prime Minister Netanyahu expressed sincere regret to Recep Tayyip Erdogan, Turkey's prime minister, for the commando raid in 2010 on a Turkish ship that killed nine people. Israel also offered compensation for the incident. Erdogan accepted Israel's apology.
After the apology, both countries announced that they would reinstate ambassadors and completely restore diplomatic relations. President Obama supported the apology in this statement, "the United States deeply values our relationships with both Turkey and Israel, and we attach great importance to the restoration of positive relations between them, in order to advance regional peace and security."
Anti-Government Protests Call for Erdogan's Resignation
In late May 2013, a sit-in protesting government plans to raze Istanbul's Gezi Park in Taksim Square to build a shopping mall grew into enormous anti-government demonstrations after police began spraying protesters with tear gas and water cannons. The demonstrations spread to dozens of cities throughout the country. On June 1, police withdrew from the park and let the occupation continue. Protesters criticized Prime Minister Erdogan for being authoritarian and called for his resignation. Erdogan initially dismissed the protesters as "thugs," but agreed to meet with representatives of the many groups of demonstrators. However, a day later?on June 11, police stormed the park, again spraying protesters with tear gas and water, and forced protesters out of the area. Two demonstrators died in the violence. The protests were compared to the Occupy movement that took hold in the U.S. in September 2011. Erdogan has been popular since taking office in 2003, leading an economic recovery, expanding the middle class, and weakening the influence of the military. At the same time, his critics have accused him of being heavy-handed and allowing his religious views to influence his leadership. In July, it was reported that a judge had ruled in June against the development of Taksim Square.
In early August 2013, protests again broke out?this time in response to the sentencing of dozens involved in the so-called Ergenekon plot of 2002, which was an attempt to overthrow the new Erdogan government. General and former army leader Ilker Basbug received a life sentence.
An investigation into government corruption began in Dec. 2013, resulting in the dismissal of 350 police officers in Turkey's capital, Ankara, in early January. Later that month, almost 500 police officers were either moved or fired in a ongoing effort on behalf of Erdogan's government to gain control of the judiciary and stem the tide of opposition.
Recep Tayyip Erdogan shut down YouTube and Twitter after taped conversations were leaked in which he was allegedly heard discussing with his son to how to get rid of millions of euros during a corruption investigation.
As scandal continued to plague the prime minister, Turkish voters went to the polls in March 2014 to weigh in on a referendum testing Erdogan's rule. His ruling party, Justice and Development (AK), won 45% of the vote.
Erdogan Elected President
Erdogan won August 2014's presidential election, the first decided by popular vote. He took 52% of the vote. The presidency is a largely ceremonial post, but in his acceptance speech Erdogan said he plans to amend the constitution to give the president executive powers. To do so, he will need a two-thirds vote in parliament and will therefore have to work with another party to secure enough votes. While the economy expanded and improved markedly during Erdogan's 12 years as prime minister, many fear that his authoritarian ambitions may squelch democracy.
Turkey Initially Resists the Fight Against ISIS but Changes Course
Members of the Islamic State in Iraq and Syria kidnapped 49 people from the Turkish consulate in Mosul, Iraq, in June 2014. Those abducted included Consul General Ozturk Yilmaz and several members of his family. Despite the threat posed by ISIS, Turkey has been reluctant to join the U.S.-led coalition fighting ISIS, presumably because of the hostages. The hostages were released in late September, and in early October Turkey's parliament voted to authorize military action against ISIS in Iraq and in Syria and also to allow other nations to launch attacks from its territory. However, as ISIS laid siege to Kobani, a Kurdish-dominated town in north-central Syria that borders Turkey, causing about 130,000 Kurdish refugees to flood into Turkey, Erdogan refused to intervene militarily or allow Kurdish fighters to enter Syria through Turkey because the Syrian wing of the Kurdistan Workers Party (PKK) is fighting ISIS. The PKK has been at odds with the Turkish government for more than 30 years over independence. Before he deploys troops, Erdogan wants the U.S. to increase aid to the rebels fighting Syrian president Bashar al-Assad and create a no-fly zone in northern Syria. His stance outraged Kurds in Turkey, who have long felt oppressed by the government. Thousands of Kurds took to the streets to protest the government's unwillingness to intervene, and about 30 people were killed in the violence.
The U.S. launched airstrikes on Kobani, Syria, in early October, trying to prevent ISIS from taking over the strategically located town and thereby gaining additional smuggling routes to arm fighters. Rather than assist the U.S. in its fight against ISIS, Turkey in October attacked installations of the PKK in the southeast, near the border with Iraq. The move outraged Kurds and also frustrated U.S. officials who were counting on the NATO ally for support. The Turkish government shifted its policy in late October, and started to allow a limited number of Iraqi Kurdish members of the pesh merga to cross from Turkey into Kobani to fight ISIS. After five months of fighting, the Kurds?backed by 700 U.S.-led airstrikes?liberated Kobani from the grip of ISIS. The victory came at an enormous cost, as the city was devastated by ISIS militants and the airstrikes. Iraqi Kurds, called the pesh merga, and members of the PKK, joined Syrian Kurds in defending Kobani.
In March 2015, the imprisoned leader of the PKK, Abdullah Ocalan, called on party members to hold a congress and declare an end to its protracted insurgency against the Turkish government. "This struggle of our 40-year-old movement, which has been filled with pain, has not gone to waste but at the same time has become unsustainable," he said in a statement. More than 40,000 people have been killed in the fighting. A previous cease-fire, in 2013, collapsed after a few months.
A suicide bomber linked to the Islamic State killed at least 32 social activists at a cultural center in Suruc, a city in southeastern Turkey, in late July 2015. The activists were planning to rebuild Kobani.
Turkey changed its position on confronting the Islamic State militarily shortly after the suicide attack. The country initiated its first cross-border assaults on the militants in late July 2015. Fighter jets targeted command centers and weapons stockpiles. It also agreed to let the U.S. launch airstrikes into Syria from two Turkish bases. Turkey, however, is not giving up the fight against the PKK. Indeed, the Turkish military reportedly attacked PKK militants as it was striking ISIS and President Erdogan announced he could no longer comply with terms of the peace process that began in 2013.
In April 2015, Pope Francis called the 1915 murder of between 600,000 and 1.5 million Armenians at the hands of Ottoman Turks during World War I the first genocide of the 20th century. He made the comment at a mass commemorating the 100th anniversary of the massacre. Turkey withdrew its ambassador to the Vatican in response.
In late Nov. 2015, Turkey shot down a Russian warplane for invading its airspace. At least one of the two pilots was killed. Turkish officials said that the plane ignored repeated warnings as it crossed over into its airspace from Syria. In a statement, Russian President Vladimir Putin called the act a "stab in the back." He also said that there would be "significant consequences." It was the first time in fifty years that a NATO member had shot down a Russian aircraft.
---