/ World
ISIS Timeline: Sunni Militants Unleash Terror Around the World
Updated February 21, 2017 |
Factmonster Staff

Sunni militants terrorize countries all over the world in their bid to implement an Islamic state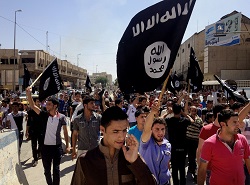 Related Links
The Islamic State of Iraq and Syria (ISIS), also called Islamic State of Iraq and the Levant (ISIL), has terrorized large swaths of Iraq and Syria in its drive to establish an Islamic state in the Middle East ruled by strict shariah law. The militant group is made up of fundamentalist Sunni Muslims and foreign jihadists. Many of ISIS fighters come from the ranks of the Baath Party of Saddam Hussein and several ISIS top lieutenants were officers and intelligence officials in the party. It is estimated that about 12,000 foreigners—as many as 3,000 Westerners—have joined ISIS. Branches of ISIS have sprung up in Egypt and Libya, and ISIS is believed to have some 30,000 fighters in its ranks. With with about 10% of them coming from the West, Western nations have stepped up security to prevent citizens from traveling to Syria and Iraq to join the fight.
Roots of ISIS
The group, formerly known as Al Qaeda in Iraq (AQI), is headed by Iraqi-born Ibrahim Awad Ibrahim al-Badry, who goes by the nom de guerre Abu Bakr al-Baghdadi. Baghdadi is also the self-proclaimed caliph of the Islamic world. He was associated with Al Qaeda as a religious figure early in the U.S.-led war in Iraq, and became the leader of AQI in 2010. U.S. troops arrested him in Falluja in 2004 during the uprising there by Sunnis. Not considered a serious threat, he was released after a few months in detention. (Some reports say he was held for several years.) Baghdadi was a follower of Jordanian militant Abu Musab al-Zarqawi, the leader of AQI who was killed by a U.S. airstrike in 2006. He is believed to have been born in Iraq in 1971 and earned a Ph.D. in Islamic studies in Baghdad. He has intentionally shrouded details of his life in secrecy, and little else is known about him.
Money and Guns
ISIS makes more than $10 million each month through extortion, the collection of taxes and fees in areas under their control, selling oil from fields it controls, and through looting the homes of people who fled under threat of the militants. ISIS has armed itself with weapons seized from the battlefield in Iraq and Syria. ISIS prefers portable weapons that are easy to conceal and transport, such as shoulder-launched, surface-to-air missiles. The group has also reportedly received funding from wealthy individuals in Saudi Arabia, Kuwait, Turkey, and Qatar and then used the money to buy arms on the black market. These nations support ISIS because both consider Iran and Syria a threat, share anti-Shiite sentiment, and want to protect fellow Sunnis from violence sanctioned by Assad and Maliki. Saudi Arabia, Kuwait, and Qatar have passed legislation banning such aid, but the governments have done little to enforce the laws.
ISIS has no boundaries in regard to its savagery. Al Qaeda distanced itself from ISIS as it grew increasingly violent and intolerant even of Muslims.
Below is a timeline tracing the growth of this menace facing nations all over the world.
2010

Abu Bakr al-Baghdadi becomes leader of AQI.

2013
April

Baghdadi changes the name of the organization from AQI to ISIS.

2014
January

The Nusra Front joins with other rebels groups to drive ISIS from several cities, dealing the group a significant defeat.

Iraq: In early January 2014, ISIS takes control of Falluja and most of Ramadi, both cities in Anbar Province that are Sunni strongholds and were major battlegrounds during the U.S.-led war in Iraq. Government troops resume control of Ramadi, but the militants hold on to Falluja and maintain their control over much of Anbar Province throughout the year.

June

Iraq: Members of ISIS seize control of Mosul, in northern Iraq in early June 2014, dealing the government an enormous—and unexpected—blow. The militants release Sunni insurgents from prison, loot banks of about $425 million, and occupy an airport, several government and military buildings, and a police station. Government troops abandon the fight in droves and join civilians fleeing the city. As many as 500,000 people flee Mosul. Mosul is the second-largest city in Iraq and an important hub in the country's oil industry.

The militants, who are joined by other Sunni groups, press on after seizing Mosul, taking Tikrit and assuming control of the country's largest oil facility, located in Baiji. As the militants expand their areas of control and the stability and future of Iraq grows even more dire, Grand Ayatollah Ali Sistani, the country's senior Shiite religious leader, calls on all Iraqis to fight the militants, saying it is "the legal and national responsibility of whoever can hold a weapon to hold it to defend the country, the citizens and the holy sites."

Thousands of Shiites heed Sistani's call and join the fight. The untrained fighters are met with brutal attacks from ISIS, and hundreds of Shiites are reportedly massacred after taking up arms. ISIS continues to seize more territory in the north and west, putting pressure on the U.S. and other nations to consider a military response. On June 21, President Barack Obama announces that 300 military advisers would be sent to Iraq but said combat troops will not be deployed.

July

By early July 2014, ISIS changes its name to the Islamic State and declares the territory under its control—Anbar province (west of Baghdad) and most of Nineveh (north of Baghdad) —a caliphate. In early August, the militants threaten to kill all Christians in Mosul who don't convert to Islam. Nearly all of the city's Christians, who numbered about 60,000 ten years ago, flee, leaving with little more than the clothes on their backs. The militants loot the homes of those who run, stealing money, jewelry, and other possessions. ISIS fighters also takek over three towns in northern Iraq, Sinjar, Zumar, and Wana, after fighting brutal battles with Kurdish forces known as the pesh merga. ISIS threatens to exterminate members of the Yazidi minority who live in Sinjar, and 40,000 members of the group flee to Mount Sinjar. They are stranded in the heat without food, water, medicine, or other supplies. Yazidis practice a religion based on Zoroastrianism, and ISIS considers them heretics.

August

Members of the group behead American journalist James Foley in apparent retaliation for U.S. airstrikes that targeted ISIS. Foley, who worked for GlobalPost, went missing in Syria in November 2012. ISIS releases a graphic video of his killing. After his death, the U.S. announces that troops had attempted to rescue him and other U.S. hostages in July, but they were unable to locate them. ISIS says Steven Sotloff, another kidnapped American journalist, would be killed if the airstrikes continued. President Barack Obama refers to ISIS as a "cancer.".

Two weeks later, ISIS releases a video showing the beheading of Sotloff, 31, who worked for Time and other news outlets. He was abducted in 2013 in Syria.

Iraq: The U.S. again becomes militarily involved in Iraq, with President Barack Obama authorizing airstrikes in August 2014 to protect Americans and American facilities there, particularly in Erbil. The U.S. military also drops food and medicine to the thousands of Yazidis stranded on Mount Sinjar. The first airstrike launches on Aug. 8 and targets militants near Erbil.

Syria: As it turns its focus to instituting its strict brand of Islam in Syria, ISIS starts to face backlash from other rebel groups, which express disdain for ISIS's brutality. Indeed, ISIS militants are accused of executing leaders of both the Free Syrian Army and Ahrar al-Sham, another rebel group. By late summer, ISIS takes over areas in Aleppo province previously held by the rebels. Al Qaeda distances itself from ISIS because of the group's merciless attacks, including those against Muslims.

September

ISIS beheads a third victim, 44-year-old British aid worker David Cawthorne Haines, on Sep. 13, 2014.

The group treats women and girls with particulary brutality. According to several news reports, militants gang rape women prisoners and marry off young girls to fighters. In September 2014, ISIS militants kidnap and torture Iraqi lawyer and women's rights advocate Sameera Salih Ali al-Nuaimy before executing her in public. Several other women are executed for speaking out against the group.

Syria:airstrikes begin on Sept. 23, 2014, with Bahrain, Jordan, Qatar, Saudi Arabia, and the United Arab Emirates joining the U.S. in its campaign against ISIS bases and training camps in Raqqa, which is considered the group's capital, and four other provinces. About 60 countries in total joined the fight against ISIS.

While the U.S.-led attacks stop ISIS from taking over Baghdad, they do little to thwart the advance of ISIS in the north. Indeed, the group continues to expand the area under its control, running schools using strict Islamic curriculum and operating a police force under the name "the Islamic Police of the Islamic State of Iraq." France approves airstrikes in late September and immediately begins attacking strongholds in the north. The tide begins to change in the north at the end of September, when pesh merga troops, backed up by U.S. and British airstrikes, take control of a Syrian border crossing in the Rabia district from ISIS fighters. The pesh merga forces made gains in other areas, including Daquq, south of Kirkuk, and several other towns. The airstrikes target not only the militants and their strongholds but also oil installations under control of ISIS, cutting into the group's source of revenue.

Iraq: In early September, a coalition of Shiite militias delivers ISIS its first major setback in Iraq. ISIS had been surrounding and attacking Amerli, a town between Erbil and Baghdad that is home to Shiite Turkmens, for about three months before the militias, aided by U.S. airstrikes, beat back ISIS, ending the siege.

Following Obama's speech in September 2014 in which he authorized airstrikes against ISIS in Syria, the U.S. intensifies its attacks on areas taken over by ISIS. The strikes targeted areas near Baghdad and regions in the north.

October

Alan Henning, a British taxi driver who delivered aid to Syrian refugees, is killed by ISIS in early October.

Syria: In September and October, ISIS lays seige to to Kobani, a Kurdish-dominated town in north-central Syria that borders Turkey, causing about 130,000 Kurdish refugees to flood into Turkey. The U.S. launches airstrikes on Kobani in early October, trying to prevent ISIS from taking over the strategically located town and gaining additional smuggling routes to arm fighters. The influx of refugees creates a humanitarian crisis, and prompts Turkey to seal the border with Syria. More than 1 million refugees already entered Turkey from Syria.

Iraq: By the end of October 2014, ISIS maintains its hold on many cities in the largely Sunni Anbar Province, as U.S.-led airstrikes prove largely ineffectual without the support of Iraqi troops on the ground. The Iraqi military remains weakened by desertions, diminished morale, and mistrust of the new government. Prime Minister Abadi makes conciliatory gestures toward Sunnis in an attempt to encourage them to join the fight against ISIS. His efforts bear fruit, and some Sunni groups and Shiite militias make progress in beating back ISIS. In January 2015, they force militants out of their stronghold in Diyala province.

November

ISIS beheads Peter Kassig, a 26-year-old American who served with the U.S. Army Rangers in Iraq. He established the Special Emergency Response and Assistance program to help civilians escaping the civil war . Held captive by ISIS for just over a year, Kassig is the fifth westerner beheaded by the militant group.

In November, Ansar Beit al-Maqdis, the most virulent militant organization in Egypt, pledges allegiance to ISIS. The move not only expands the reach of ISIS into Egypt, it also increases the resources available to Ansar Beit al-Maqdis to wage war against the government.



2015
January

On Jan. 9, 2015, two days after 12 people are killed at Charlie Hebdo, a satirical weekly magazine in Paris, Amedy Coulibaly takes several hostages at a kosher supermarket in Paris. Police kill Coulibaly, but four hostages also die. In a video released after his death, Coulibaly says he had pledged allegiance to ISIS.

ISIS proves to be skilled at using social media, high-quality videos, and an online magazine, Dabiq, as both recruiting and propaganda tools. It releases videos glorifying its brutal assassinations and attacks on U.S. troops. The group uses social media outlets such as Twitter, WhatsApp, and Facebook to promise new recruits material rewards, such as free housing and a steady salary. According the the U.S. State Department, ISIS releases about 90,000 tweets a day. The group appeals to the religious fervency of young, impressionable Muslims and lures them to Syria and Iraq to become radicalized and fight for the cause. Members of ISIS take credit for the January 2015 hacking of the Twitter and YouTube accounts of the U.S. Central Command.

Syria: After five months of fighting, in January 2015 the Kurds—backed by 700 U.S.-led airstrikes—liberate Kobani from the grip of ISIS. The victory comes at an enormous cost, as the city is devastated by ISIS militants and the airstrikes. Some 400 Kurdish fighters are killed, and ISIS reportedly loses 1,000 jihadists in the fighting. Iraqi Kurds, called the pesh merga, and Turkish Kurds who are members of the Kurdistan Workerâs Party (PKK), join Kurds in defending Kobani.

Libya: As Libya descends into political chaos in late 2014 and into 2015, at least three militant groups, one in each of Libya's three regions, pledge allegiance to ISIS.

February

Libya: A group of militants aligned with ISIS beheads 21 Egyptian Coptic Christians who had been kidnapped from Sirte. Egypt responds by launching airstrikes on a weapons cache in Derna, a militant stronghold in eastern Libya.

President Obama formally seeks authorization from Congress to conduct a three-year campaign against ISIS. The request covers airstrikes and limited ground troops. It specifically states the U.S. would not "engage in enduring offensive ground combat operations."

March

The Nigerian-based Islamist sect Boko Haram pledges allegiance to ISIS.

Iraq: The Iraqi military, aided by Iranian-backed Shiite militias and Iranian troops and advisers, begin a major campaign in March 2015 against ISIS in Tikrit, Saddam Hussein's hometown, which ISIS captured in June 2014. Fighters from Shiite militias comprise the bulk of the force, some 20,000 men, while Iraqi troops numbered only about 3,000. A small number of Sunni fighters joined the battle. They drive ISIS out of Tikrit, handing ISIS a significant defeat. The operation is conducted without the backing of the U.S.-led coalition, handing the Iraqi forces a symbolic as well as strategic victory.

May

Iraq: ISIS takes control of Ramadi, the largest city in western Iraq and the capital of Anbar province, after detonating a strategic series of car bomb blasts.

Syria: ISIS seizes Palmyra, a historic city in central Syria that is home to several ancient ruins and is a UN World Heritage Site.

Libya: ISIS militants shoot or behead at least 20 Ethiopian migrant workers, most of whom are believed to be Christian.

August

The U.S. launches both manned and unmanned airstrikes against ISIS from Turkey.

Syria: Militants destroy several important antiquities in Palmyra, including the Temple of Baalshamin, one of the most majestic and well-preserved structures in the ancient city, and a 5th-century Roman Catholic monastery. Militants also behead Khaled Asaad, the 81-year-old former director of antiquities at Palmyra, reportedly torturing him for information about unexcavated treasures in the city.

September

Yemen: In two separate events, an ISIS afiliate group kills at least 57 people at mosques in Sana using a car bomb, a shoe bomb, and two suicide bombers.

Bangladesh: ISIS claims responsibility for the shooting death of an Italian Aid worker on Sept. 28. Less than a week later, their claims are echoed in the death of a Japanese man. Both are killed in Dhaka.

October

Turkey: Officials blame ISIS for the worst terrorist attack in Turkey's history: two coordinated explosions at a rally for peace in Ankara that killed more than one hundred.

The Sinai Province of the Islamic State, an ISIS offshoot, claims responsibility for the bombing of a Russian passenger plane. The jet crashed 20 minutes after taking off from Sharm el-Sheikh in Egypt. All 224 people on board are killed.

November

ISIS launches three coordinated attacks in Paris, killing 129 people and wounding hundreds. Eighty-nine people died in an assault at a concert hall, the Bataclan. Dozens of other people are killed in attacks on restaurants and a soccer stadium. French president François Hollande called the attack "an act of war," and retaliated with airstrikes on Raqqa, Syria, ISIS's self-declared capital.

December

A couple, Syed Rizwan Farook, a 28-year-old county health inspector, and his wife, Tashfeen Malik, 29, killed 14 people and injured 21 in a terrorist attack at a social services center, the Inland Regional Center in San Bernardino Calif., on Wednesday, Dec. 2, 2015. Shortly before the attack, Malik posted a pledge of allegiance to the leader of the Islamic State on Facebook; after the shooting, ISIS called the couple "supporters."

2016
February

U.S. special operations forces captured a chemical weapons specialist for ISIS, Sleiman Daoud al-Afari. There is evidence that ISIS has been developing and deploying chemical weapons for years; the arrest of al-Afari has provided coalition forces with vital information concerning the location of chemical weapons production and storage. The most recent mustard gas attack came Feb. 17, 2016 in an area north of Mosul.

March

A U.S. Marine was killed by an ISIS-launched rocket, becoming the second American casualty since combat operations began in Aug. 2014. There are currently approximately 3,700 U.S. troops on the ground assisting/advising the Iraqi Army.

Belgian police arrested Salah Abdeslam on Friday, March 18. Abdeslam is believed to be the ISIS logistics chief for the Paris attacks, and the only major player in the Paris attacks that is still alive.

ISIS claimed responsibility for two attacks during rush hour in Brussels on March 22, 2016: âIslamic State fighters opened fire inside the Zaventem airport, before several of them detonated their explosive belts, as a martyrdom bomber detonated his explosive belt in the Maelbeek metro station.â At least 11 were killed in the international airport; more than 20 died at the metro station; and hundreds more were wounded. The death toll is expected to rise. These attacks come four days after the arrest of Salah Abdeslam, a man wanted for his role in the Paris terrorist attacks in November.

May

ISIS claims responsibility for the bombings that occur May 11, 2016, in Baghdad, Iraq. The three bombs kill 80 people and wound many more. The largest of the attacks is a car bomb that detonates, killing 66 people, destroying 30 stores and burning at least 20 cars. Later that day another bomb explodes in the Kadhmiya neighborhood, killing 17 people; another attack in the Jamiya neighborhood, kills nine. Later that week, ISIS claims responsibility for another attack on a Baghdad gas plant. Two suicide bombers detonate, throwing the place into flames while six ISIS militants attempt to storm the building but are held off. Five police officers are killed in the attack.

Pakistan: A U.S. drone strike kills the Taliban leader Mullah Mansour on May 21, 2016. Within a week, one of Mansour's deputies, Haibatullah Akhundzada, becomes the new face of the Afghan Taliban. Akhundzada is known for his hardline extremist views and is not likely to participate in peace talks with Afghanistan's government.

The Iraqi army storms Falluja, Iraq on May 30, 2016. With the help of United States air protection, the Iraqi army is able to undermine the Islamic State's hold on a police station and launches a direct attack on the ISIS militants. Falluja is turning out to be one of the most highly contested areas in Iraq.

June

On June 13, 2016, a man named Larossi Abballa attacks and kills two officers in the town of Magnanville, France, a suburb located 32 miles outside of Paris. Officers storm the residence and kill Abballa, and rescue a child inside the home. ISIS claims responsibility.

More than two years ago the militant group ISIS stormed into Falluja, Iraq and took over the city. Now after many months of fighting, Prime Minister Haider al-Abadi declares a victory; the city is back in Iraqi control as of June 18, 2016. However, it will be at least 6 months before displaced families can return to their homes; the city faces a serious refugee crisis, with tens of thousands who fled Falluja as ISIS retreated. Right now special forces are clearing and screening, trying to rid the city of all ISIS members and sympathizers.

Three terrorists storm into the Istanbul Ataturk Airport in Turkey on June 28, 2016. The terrorists, armed with explosives and guns, open fire before detonating the explosives. More than 40 are killed, and hundreds more wounded. Those who survive the attack are led out of the airport by police, through a terrifying path of blood and shattered glass. While Turkey blames ISIS for the attack, ISIS has yet to claim responsibility.

July

Three recent and major attacks in Middle Eastern cities were ISIS inspired-proof that the radical extremist group is actively and successfully recruiting members from a variety of backgrounds throughout many countries. The first attack happened on July 2, 2016, in Dhaka, Bangladesh involving five wealthy young men who storm the scene armed with knives and guns. They first exchange gunfire with officers, killing two. Then the group seizes a restaurant, where they kill 20 hostages. The boys had gone missing six months before, but the families' attempts to find them failed. ISIS claims responsibility.

The second attack also occurs on July 2. As people are out celebrating the end of Ramadan, a truck packed with explosives detonates in a crowded shopping center in Baghdad, Iraq. The death toll stands at 137 killed, 200 wounded, and 37 still missing. ISIS claims responsibility.

In a third attack, a suicide bomber targets the holy city of Medina in Saudi Arabia. The city is particularly holy because it is where the Prophet Mohammed is buried. The suicide bomber kills 4 people, and injures another. ISIS has yet to claim responsibility but analysts suspect that the Islamic State is behind this act of terror.

On July 26, 2016, two men storm into Saint-Ãtienne-du-Rouvray Church in Normandy, France and take five people hostage, including the priest, two nuns, and two parishioners. The men force Priest Jacques Hamel to kneel before the altar as they slit his throat, preaching in Arabic while filming the whole ordeal. The assailants leave the church with three of the hostages, trying to use them as protection but are shot dead by police. According to the Amaq News, the news site for the Islamic State, the two men were followers of ISIS.

August

On August 20, 2016, a suicide bomber in Turkey attacks a wedding ceremony, killing 54, 22 of which are children. Turkish authorities name ISIS as the perpetrator. This is the deadliest attack in Trkey this year.

On August 31, 2016, ISIS announces the killing of the second-in-command of the jihadist group, Mohammad al-Adnani. This is the highest-profile killing yet of an ISIS member and while the group does not reveal the cause of death, it does release a statement pledging revenge. Al-Adnani was the spokesman for ISIS, but his role in the jihadist group was much more meaningful; he is believed to have masterminded large-scale terrorist attacks against countries who were allies of the United States, including France, as well as overseeing international and lone wolf attacks.

September

A man stabs nine people at a Minnesota mall on September 17, 2016, before being shot dead by an off-duty police officer. An ISIS-linked news agency identifies the assailant as a "soldier of the Islamic state."

November

On November 24, 2016, a deadly attack occurs in southern Iraq. As many Shiite pilgrims make their way through the country on one of the largest religious pilgrimages, an ISIS suicide bomber detonates a truck. The explosive-laden truck is parked at a roadside service station when the attack occurs. At least 80 people die in the attack, most of them Shiite pilgrims on their way home from Arbaeen. The attack comes just two days after Iraqi Prime Minister Haider al-Abadi applauded the efforts of the Iraqi security forces for keeping the Shiite pilgrims safe.

2017
January

The Islamic State claims responsibility for a New Year's Day shooting at the Istanbul nightclub Reina that leaves at least 39 people dead, wounding 70. ISIS names the assailant a "hero soldier of the caliphate" who acted in retaliation for Turkish military operations against the terror group in northern Syria.