/ World
Time Tangled Island: Mount Everest
Updated February 21, 2017 |
Factmonster Staff

Factropica Fast Facts and quizzes
by Beth Rowen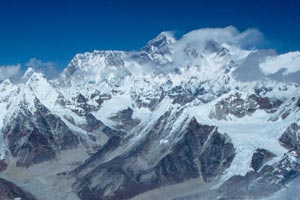 Related Links

Factropica Fast Facts
On May 29, 1953, Edmund Hillary, a New Zealand beekeeper, and Tenzing Norgay, an acclaimed Sherpa climber, became the first to reach the summit of Mt. Everest, which is called the "roof of the world."
Tenzing Norgay spoke seven languages, but could not write.
Sherpas are a people of Tibetan ancestry who migrated to Nepal about 600 years ago. They are renowned for their ability to tolerate high altitudes, their mountaineering abilities, and their extraordinary bravery.
According to National Geographic, Mount Everest grows about 4 millimeters a year. The official height of Everest, as of Nov. 11, 1999, is 29,035 feet.
Mount Everest is also called "Chomolungma" by Tibetans and Sherpas. It means "Mother Goddess of the Earth."
In 1963, the first American, James Whittaker, summits Mount Everest.
The Japanese-run Everest View Hotel is at 12,779 feet the highest hotel in the world.
In 1975, Japan's Junko Tabei became the first woman to summit Mount Everest.
Reinhold Messner was the first climber to summit Everest alone. Later, he became the first to reach the top without oxygen.