2018 Winter Olympics: Ski Jumping
Updated February 13, 2018 |
Factmonster Staff


Once a popular attraction at ski carnivals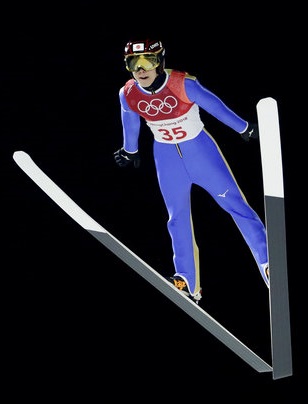 Related Links
Memorable Moments
Did You Know?
The youngest male athlete to win an Olympic gold medal was 16-year-old Toni Nieminen of Finland, who won the large hill ski jumping event at the 1992 Winter Games in Albertville, France.
Ski jumping was born in Norway, the country that has given us practically all of our Nordic skiing events. A popular attraction at ski carnivals in the mid-1800s, the first official ski jumping competition was held in Norway in 1872. Norwegian immigrants brought ski jumping to America just before the turn of the century.
The large-hill ski jumping competition has appeared at every Olympic Winter Games since 1924. Although its height has changed through the years, the hill has been fixed at 120 meters (394 ft) since the 1992 Winter Games.
The normal-hill event was introduced in 1964. Its height was set at 70 meters (230 ft) and remained so until 1992, when it was moved up to its current height of 90 meters (295 ft).
After years of barring women ski jumpers from the Winter Games, the International Olympic Committee announced in April 2011 that women would finally be allowed to compete, beginning in 2014 in Sochi
The events
Jumpers compete in three events: individual normal hill, individual large hill, and team (which is contested on the large hill). Women compete only in the individual normal hill.
In all events, the skiers ski down the course of a carefully constructed jump. Each athlete attempts two jumps. Landings are videotaped for exact measuring purposes, and points are awarded based on the length of the jump. Longer jumps are awarded more points than shorter ones.
A panel of five judges rates each athlete's style on a scale from 0–20. The lowest and highest scores are dropped, making 60 a perfect score.
The skier, or team of skiers, with the highest combined total of distance points and style points is awarded the gold medal.
The Pyeongchang Games
The ski jump events at Pyeongchang will be held at the Alpensia Ski Jumping Centre in Pyeongchang. The events will begin with the men's normal hill on Feb. 10, and will conclude with the men's team on Feb. 19.
More about the 2018 Winter Olympics