/ Movies
/ Ten Movies to Watch with Dad
Ten Movies to Watch with Dad
Updated February 21, 2017 |
Factmonster Staff

Here are some movies to watch with dad on Father's Day.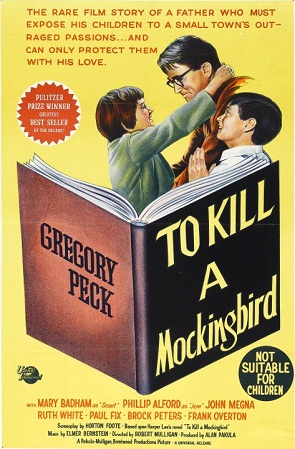 To Kill A Mockingbird
Related Links
Looking for something to do with dad on Father's Day? How about spending some time relaxing with a couple movies? Here's a list of some films featuring unforgettable fathers.
To Kill A Mockingbird (1962)

Based on the classic novel by Harper Lee, this film is considered a classic as well. The movie is listed in the National Film Registry, and, in 2003, the American Film Institute named Atticus Finch the greatest movie hero of the 20th Century. Played by Gregory Peck, Finch is a widowed father and lawyer whose strong belief that all people should be treated equally guides him as he defends an African-American man accused of raping a white, teenage girl. Finch's unwillingness to back down on the case sets a heroic example for his two young kids as well as everyone in town.
Life is Beautiful (1997)

Both a critical and box office success, this Italian comedy-drama is based in part on Roberto Benigni's family history. Before Benigni was born, his father survived in the Bergen-Belsen concentration camp for three years. In the film, Benigni plays a Jewish bookshop owner who uses his imagination to protect his son while their held in a concentration camp. Because his father is so convincing, the son doesn't question the stories his father invents despite their surroundings. The film won three Academy Awards, including Best Foreign Language Film and Best Actor for Benigni.
Field of Dreams (1989)

This fantasy-drama is an adaptation of W.P. Kinsella's novel Shoeless Joe. Nominated for three Academy Awards including Best Picture, the film follows new farmer Ray Kinsella through his cornfield as he hears a voice saying, "If you build it, he will come," while he sees a vision of a baseball field. Ray, played by Kevin Costner, risks everything and builds the field, but nothing happens at first. Finally, his daughter sees Shoeless Joe Jackson out on the baseball field. Jackson is a deceased baseball player who Ray's father admired. Over the course of the movie, as Ray struggles to keep his land, other deceased players come to the field, including Ray's own father as a young man.
Mr. Mom (1983)

One of two films on this list written by John Hughes, Mr. Mom is a comedy set in a suburb of Detroit during a recession. Jack, played by Michael Keaton, loses his job at the Ford Motor Company. Soon after, his wife Caroline, played by Teri Garr, gets hired by an ad agency. While Caroline adapts to going back to work after years of not working, Jack struggles at being a stay at home dad. He soon realizes he knows nothing about running a household. The film made many best of 1983 lists and did well enough at the box office to earn a three-picture deal for John Hughes.
Pretty in Pink (1986)

This classic John Hughes "Brat Pack" film centers around high school senior Andie, played by Molly Ringwald, who is being raised by her single dad Jack, played by Harry Dean Stanton. Jack is underemployed, but tries his best to give his daughter the life she deserves. For example, in the film, he surprises her with a thrift shop pink dress he can't afford so she'll have something to wear to prom. The film's father-daughter relationship is one of the most memorable in teen movies. Also, take note of the movie's soundtrack, considered one of the best of all time.
Kramer vs. Kramer (1979)

When it comes to showing the impact of divorce on everyone, especially a child, Kramer vs. Kramer sets the bar, winning five Academy Awards in 1980, including Best Picture, Best Director, Best Adapted Screenplay, Best Actor, and Best Supporting Actress. Workaholic Ted, played by Dustin Hoffman, comes home to share his new work assignment with his wife Joanna, played by Meryl Streep, only to learn she's leaving him and their young son, Billy. The rest of the movie focuses on the fallout of her leaving, the affect it has on Ted and Billy, and the father-son bond they form. The film doesn't take sides or give any answers on the issues of divorce or child custody. That, along with amazing performances, makes this film timeless.
On Golden Pond (1981)

Ernest Thompson penned the screenplay, an adaptation of his 1979 stage play, and Jane Fonda secured the rights so her father, Henry Fonda, could play the role of Norman Thayer. Jane Fonda plays his daughter and Katharine Hepburn plays his wife. Even though Henry Fonda and Hepburn had been acting for years, they had never worked together until this film. Both won Oscars and Thompson took one home for his script. The movie would be Henry Fonda's last. Another reason this film is noteworthy, the tense father-daughter relationship in the film closely mirrored that of Jane and Henry Fonda in real life. A hit with audiences, the movie became the second highest grossing film of 1981, behind Raiders of the Lost Ark.
Star Wars, Empire Strikes Back, Return of the Jedi (1977, 1980, 1983)

Despite all the twists and turns of George Lucas' space opera in a galaxy far, far way, the root of this story comes down to (spoiler alert) a tormented father and his long lost son. What better way to spend Father's Day than a movie marathon featuring one of the most beloved trilogies of all-time?
The Godfather (1972)

Another classic, this one directed by Francis Ford Coppola, is regarded as one of the greatest films ever made and a winner of three Oscars, including Best Picture. Marlon Brando won a Best Actor Oscar for playing the family patriarch Vito Corleone. The film focuses on the Corleone mafia family and the transfer of power from Vito to his reluctant youngest son Michael, played by Al Pacino.

Ordinary People (1980)

The first film directed by Robert Redford, Ordinary People follows the downward spiral of a suburban Chicago family after the eldest son is killed in a boating accident. The father, Calvin, played by Donald Sutherland, tries to become closer to his only remaining son, Conrad, played by Timothy Hutton. Meanwhile, Conrad deals with the guilt of having survived the boating accident while his brother died. Over the course of the film, father and son have to come to terms with their loss and with each other. Winner of four Oscars, including Best Picture, Ordinary People has been hailed by critics and audiences.



Advertisement
Advertisement