Fact Monster Awards and Press
Updated February 21, 2017 |
Factmonster Staff

Awards / Press
FactMonster.com (formerly known as Infopleasekids.com) was launched in August 2000 by Information Please. Fact Monster and its Homework Center have received national recognition for their unbeatable reference materials, fun facts and features, and individualized homework help.
---
Awards
Fact Monster Wins Webby Award for
Best Kids' Site!

The 5th Annual Webby Awards
July 2001

Fact Monster was recognized as Best Kids' Site by the International Academy of Digital Arts and Sciences.
2001 New England Web Design Awards
February 15, 2001

Best E-zine/content Site: Fact Monster by Holly Hartman, Amanda Kudler, Sean Dessureau, and the Learning Network Team, Boston, MA. Original Fact Monster site design and identity by Cynthia Patten and Clifford Stoltze of Stoltze Design, Boston, MA. Fact Monster character by Mark Fisher.
---
Press
MyReportLinks.com
MyReportLinks.com Books Seal of Approval
Feb. 26, 2002

Fact Monster has received the MyReportLinks.com Books Seal of Approval. This Seal is awarded to sites that are especially valuable to students who are doing research for school reports.
TIME
School Monster
September 10, 2001

"No one really looks forward to the first day of school, but at least the Fact Monster (www.factmonster.com) can ease the pain. It's a funky, cartoon-style website for kids, with features like the math-themed Bug Splat game, a dinosaur quiz and a learned essay on the history of the lunch box. Oh, and it also has an almanac, an atlas, a dictionary and an encyclopedia. It's so cool that kids will forget it's educational."
Utah News 4
August 2001

"Don't let the neon colors and comical illustrations make you think this site is just kids' stuff. It's one of the most helpful sites we've come across for reference data and arcane trivia alike. . . . Fact Monster would deserve praise just for its math section—a quick reminder of basic math concepts, presented clearly and offered without embarrassment."
Detroit News
Hot Sites
July 30, 2001

"Fact Monster imparts wisdom on a variety of subjects including politics, science and world news in an oddball fashion that kids will enjoy."
Chicago Tribune
Web Site Spotlight: Getting a jump on homework help
July 30, 2001

"Fact Monster won the top Webby Award for the Best Kid's site of 2001. The honor is well deserved. . . . It has received high praise for its presentation, fun facts and features, and its individualized homework help."
Internet Advisor
July 2001

"Bristling with facts, [Fact Monster] is, in many ways, a one-stop shop for the inquisitive and information-hungry young mind."
The Web Philippines
Erika's Homework Helpers
June 2001

"Fact Monster zeroes in on clusters of facts that genuinely interest children. It's like they took a bunch of kids then asked them what they really want to know."
Washington Times
May 27, 2001

The Washington Times calls Fact Monster "an outstanding educational resource that combines a mad scientist's passion for wisdom with a cartoonist's eye for fun."
Ladies' Home Journal
Homework 911
March 2001

"Click on 'Homework Center' for answers to questions and cool features like the 20th-century chronology section, which lists all the major historical, economic, entertainment and sports events for any year you type in."
NCTM News Bulletin
Web Bytes
March 2001

The National Council of Teachers of Mathematics' newsletter highlighted Fact Monster as a reference source.
Berit's Best Sites for Children
January 2001

"This great site features an almanac, atlas, dictionary and encyclopedia made especially for kids. You'll also find a daily famous birthday, event in history, a quiz, interesting topics in the spotlight, plus Funbrain.com games, and a homework help center. My rating: 5/5."
Brief Me
October 2000

"Kids may actually enjoy doing homework if they use www.FactMonster.com . . . I had so much fun a the site that I had to force myself to leave it so I could write this review. . . ."
Star Tribune
Tech Today
September 20, 2000

"This mega-reference site for elementary students combines a user-friendly format with flashy graphics. . . . The Cool Stuff section beckons with 'The Story of Popcorn' and 'Scooter Mania'."
Chicago Tribune
Maps on Net Ease Travel to Anywhere
September 11, 2000

"This mega-reference site [FactMonster.com] for elementary students combines a user-friendly format with flashy graphics. Pages are packed with data on everything from dragons and giants to the latest dinosaur discoveries."
The Columbus Dispatch
Hot Sites
September 4, 2000

"Did you know that popcorn has been around for at leat 5.600 years? Or that some penguins wear sweaters? You would if you were spending time with the Fact Monster. . . . See if you can match the U.S. Presidents with their dogs or play a little math baseball. But be careful, because you just might learn something."
Christianity Online
August 25, 2000

"This is a great site to bookmark to return to throughout the year when the homework piles up. See? There's some good stuff out there on that Internet thing."
USA Today
Hot Sites
August 18-20, 2000

"FactMonster.com is a mega-reference site for young students."
MSNBC
KHQ Spokane, WA
August 21, 2000

Fact Monster, a "great resource for kids", was chosen as "Monday's Q6 web site of the day".
300 Incredible Things to Learn on the Internet
April 2000

Consumer reporter Robyn Spizman and Ken Leebow said about the Information Please Almanac and Kids' Almanac: "These online almanacs have current and historical news on almost every subject."
Life Skills 4 Kids
Web Discoveries: for teachers, parents & kids

"Wow, I wish they had this when *I* was a kid. . . . The Kid's Almanac is a treasure trove of interesting facts, links, news articles, scientific information and history. . . We suggest sitting with your child to explore this site together—you'll both learn a lot and have a ball!"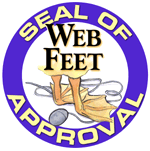 Web Feet: The Internet Traveler's Desk Reference
Seal of Approval
December 1999

The Kids' Almanac (Fact Monster) received the Web Feet Seal of Approval from the print reference book Web Feet: The Internet Traveler's Desk Reference.

SurfMonkey
Star Site Award
August 1999

The Kids' Almanac was handpicked as one of the best online homework helpers for kids ages 6-12.

USAToday Education Web
Best Bet for Educators
May 30 – June 5, 1999

"A fun and helpful site for students that has facts on just about anything ranging from world geography to fashion. An abundance of information right at your fingertips!"