Father's Day — Dads on TV
Updated February 21, 2017 |
Factmonster Staff

Father Grows Up
A history of TV's most famous dads
---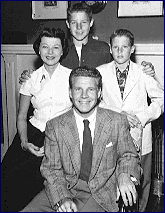 The Adventures of Ozzie and Harriet
Dear old dad has come a long way on the small screen, from television's early fathers who wore cardigans and dispensed advice to today's TV dads, who vacuum and make PB&J for the kids' lunches. While 1950s television had men coming home from a day at the office to be greeted at the door with a peck on the cheek from an adoring wife and hugs from enamored children, recent network offerings have introduced single dads who juggle careers, laundry, and adolescent crises.
Recently, programs have kept pace with the changing landscape of the post–feminism era—the dawn of the male gender revolution that has seen two million men staying at home with the kids and millions of divorced fathers seeking custody of their children. NBC's short–lived Daddio featured a family in which the father quit his job to take care of the kids when the mother accepted a position as an attorney.
Nonetheless, most TV dads cope with the stress of parenthood all too easily and laugh off minor disasters, rarely yell at the kids, and never seem to run out of cash. But that's fiction (escapism) for you. Who wants to watch on television how silly we look stressing over life's nagging exigencies?
In honor of Father's Day, here's a look at how television's patresfamilias have evolved since the 1950s.
Too Good to be True
Nineteen–fifties television mostly reflected the typical American family: man as breadwinner and woman as homemaker. Father Knows Best (1954–1963) aptly portrayed the stereotypical family, with Robert Young playing insurance agent Jim Anderson, a loving husband and the doting father of three children with the nicknames Princess, Bud, and Kitten.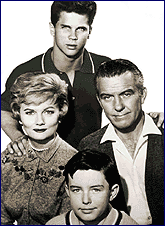 Leave It to Beaver
With sobriquets like that, it's obvious those kids didn't create too many ripples for dad. Nevertheless, at the end of the day, Jim Anderson would always replace his jacket and tie with a cardigan and shift into problem–solving mode for his family.
Even more virtuous than the Andersons were the Nelsons: Ozzie, Harriet, David and Ricky, family members in real life, too. The Adventures of Ozzie and Harriet (1952–1966), television's longest–running sitcom, was decidedly low on adventures. In fact, Harriet rarely left the kitchen and Ozzie didn't venture much out of the yard. Ozzie's occupation, if he even had one, was never mentioned, so he had plenty of time to guide his sons through dating problems, career choices and marriage.
While Ozzie and Harriet was not grounded in reality, Leave It to Beaver's (1957–1963) title character, played by Jerry Mathers, managed to get himself involved in some sort of minor calamity each episode. The Beave's ever–patient, accountant father, Hugh Beaumont's Ward, was always on hand to offer words of wisdom and to make sure his son learned a valuable lesson from his miscues; and more often than not, Ward learned a few lessons himself.
Wrinkles in the Fabric of the All–American Family
Not all early sitcoms portrayed the "traditional" family. There were a handful of shows with single dads—widowers, not divorcés, of course. However these fathers didn't go it alone; most often they had reliable domestic help.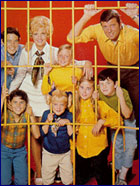 The Brady Bunch
Mayberry, North Carolina's down–home Sheriff Andy Taylor, played by Andy Griffith in his eponymous rural comedy (1960–1968), was one of television's first single dads. Though a little on the homespun side, Taylor handled fatherhood with a laid–back sense of humor.
It helped that his milquetoast son, Opie (Ron Howard), didn't pose much of a threat to his authority, and Andy had Aunt Bee (Frances Bavier) to manage the household responsibilities with a maternal touch.
My Three Sons's (1960–1972) widower Steve Douglas (Fred MacMurray), a bland aeronautical engineer, struggled a bit more than Andy Taylor but still managed to make raising three boys look like a day at the park. Douglas's father–in–law, "Bub" O'Casey, also pitched in at 837 Mill Street.
Oddly, neither Andy Taylor nor Steve Douglas showed much interest in women. The combination of careers and childrearing apparently didn't leave much time for socializing. In The Courtship of Eddie's Father (1969–1972), magazine editor and widowed father Tom Corbett was able to fit women into his schedule, thanks in part to the matchmaking efforts of his young son, Eddie (Brandon Cruz), though the entanglements never led to serious involvement. The show was a bit mawkish, but who wasn't touched by Tom and Eddie's relationship as "best friends"?
Mike Brady (Robert Reed), a widower architect father of three boys, also found time for a relationship. The union of Mike and Carol (Florence Henderson) produced television's most famous blended family, The Brady Bunch (1969–1974). Mike and his three sons and Carol and her three daughters complemented each other like pork chops and applesauce, with very few "step" issues.
It helped that Mike was the perfect, hip–hugger wearing father who took the family on groovy vacations, always had logical solutions to family brawls and brought Don Drysdale home to have a catch with Greg.
Television Catches On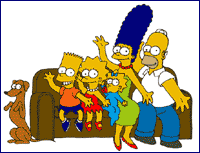 The Simpsons
By the time The Cosby Show (1984–1993) hit the airwaves, dual–income families were the norm, rather than the exception, and Bill Cosby crafted his sitcom to resemble the traditional family. Indeed, with both Heathcliff and Clair (Phylicia Rashad) working (Cliff was an obstetrician and Clair an attorney), Dr. Cliff assumed more responsibility with the kids than was seen in earlier sitcoms.
Cosby parlayed his gift for physical comedy and his natural way with children into one of television's most beloved, and too–good–to–be–true, fathers.
John Goodman's Dan on Roseanne (1988–1997) headed what was much closer to the true traditional family: blue–collar parents struggling to raise three difficult kids. The rotund Dan often lost his temper, fought with wisecracking wife Roseanne, worried about money, was stymied by his kids and loved his beer and chips.
Speaking of beer, chips and not–so–perfect dads, The Simpsons' (1989–present) Homer has brought new meaning to the word underachiever. Through his bumbling ineptitude and foibles in everything from raising his kids to his career at the nuclear plant, Homer, thanks to consistently edgy writing, has managed to satirically convey social, political and environmental messages.
There are few socially or politically correct themes on Home Improvement (1991–1999), but the show also featured a father, Tim "Tool Man" Taylor (Tim Allen), whose adolescent kids blew him away in intelligence and maturity. Though successful with his cable handy–man show, Tim relied on his wife (Patricia Richardson) for nearly all the serious decision making.
On the other hand, Paul Reiser's new dad Paul Buchman on Mad About You (1992–1999), took an active role in caring for infant daughter Mabel, from changing diapers to feeding to temporarily being an at–home dad. And he managed the responsibility without the stereotypical catastrophes that could have been.
Modern and Untraditional
The 21st century spotlight fell on a new kind of television family: the "real" kind. Despite complaints that reality TV was scripted, staged, and richly subsidized, viewers couldn't get enough of Jon and Kate Plus 8 (2007–present [as Kate Plus 8]), a peek into the chaotic life of the hyper-fecund Gosselin family. Kate's wry humor and sarcasm hinted at a steely core that allowed her to survive among twins Madelyn and Cara, and sibling sextuplets Aaden, Alexis, Collin, Hannah, Joel, and Leah, but tested the mettle of the more easygoing Jon. The show surely had fathers everywhere looking fondly at their own 2.5 children and breathing a deep sigh of relief.
More about entertainment than identification, TV today has more celebrities and fewer role models. For viewers who are tired of being voyeurs, there emerged in 2009 an award-winning comedy series that seeks to realistically, yet amusingly, portray the American family. This is, of course, a daunting task considering there is no clear cut definition. It is probably out of necessity, then, that Modern Family follows the three families of patriarch Jay Pritchett (Ed O'Neill): his own with younger Colombian wife, Gloria Delgado-Pritchett, and her preteen son; suburbanites Claire (Jay's daughter) and Phil Dunphy and their three children; and the same-sex partners Mitchell Pritchett and Cameron Tucker and their adopted Vietnamese baby, Lily. Winning Emmys for best comedy, best writing, and outstanding supporting actor in a comedy (Eric Stonestreet who plays Cameron Tucker), Modern Family is proving to be a TV show for our age.