/ Features
/ Sports
2010 Olympics: Curling
Updated February 21, 2017 |
Factmonster Staff


Think shuffleboard on ice
by Mike Morrison and Christine Frantz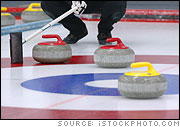 Related Links
Did You Know?
Curling is one of four winter Olympic sports being contested indoors. The other three are hockey, figure skating, and speed skating.
The sport of curling dates back to the early 1500s in Scotland and was reportedly brought to North America by British troops in the 1700s during the Revolutionary War.
Curling made its Olympic debut at the Winter Olympic Games in 1924. It came back in the 1932 Lake Placid Games as a demonstration sport, but then went on a 56-year Olympic hiatus, returning again as a demonstration sport at the 1988 and 1992 Games. Since the 1998 Nagano Games, curling has been contested as an official medal sport for both men and women .
As far as the actual game goes, think shuffleboard on ice combined with the strategy of a game of bowls or bocce.
Each match is made up of ends, or periods, where two teams of four players each take turns sliding 42-pound polished granite stones down a sheet of ice towards a bullseye made up of four concentric circles. This bullseye, which is 12 ft in diameter, is known as the "house" and its center the "tee." The tee is located 126 ft from where the shooter starts.
When the stone is released by the shooter, it is done with a special technique that involves a twist of the wrist. Like a bowling ball hooks (or curves) down an alley, so too does the stone as it glides down the ice. This curve is known as the "curl."
As the stone curls towards its intended target (perhaps the tee, or perhaps an opponent's stone that is in the way) the other three team members sweep the ice with brooms, causing the stone to speed up or change directions. The "skip" is the captain of the team and usually shouts out sweeping instructions.
Each team member shoots twice, so there are 16 shots in each end. A team scores points when its stones are closest to the tee after all 16 shots. Each match consists of 10 ends.
In 2006, the Canadian men and Sweden's women were gold medalists. The World Curling Federation's 2008-2009 rankings show Canada in the top spot for both men and women, with the U.S. coming in at number 4 for men, and number 6 for women.
After Salt Lake City, curling showed a surge in popularity both in the U.S. and abroad. In the U.S. new clubs formed in places as unlikely as Texas, Arizona, and Tennessee. The U.S. Curling Association membership grew by about 15%. A sure sign of success, the sport has its ownrisqué calendar sponsored by the European Curling Federation. 2010's Fire on Ice" features 26 women curlers posing in the buff or scantily clad.