/ Space
/ The Planets - Mars
The Planets - Mars
Updated February 21, 2017 |
Factmonster Staff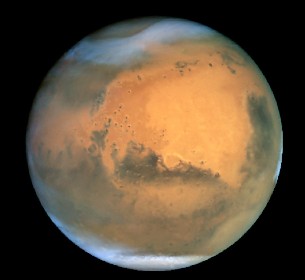 Because of its blood-red color (which comes from iron-rich dust), this planet was named for Mars, the Roman god of war. Mars is the fourth planet from the Sun, situated between Earth and Jupiter. Three-quarters red, Mars also has dark blotches on it and white areas at the poles—these are white polar ice caps.
Size: About one-half the size of Earth in diameter
Surface: Canyons, dunes, volcanoes, and polar caps of water ice and carbon dioxide ice


Diameter: 4,194 miles (6,794 km)
Atmosphere: carbon dioxide (95%)
Temperature: as low as –305°F (–187°C)
Rotation of its axis: 24 Earth hours, 37 minutes, 23 seconds
Rotation around the Sun: 687 Earth days
Your weight: If you weigh 100 pounds on Earth, you would weigh 38 pounds on Mars.
Distance from Earth: 35 million miles (56 million km) at the closest point in its orbit
Mean Distance from Sun:141.71 million miles (227.9 million km)
Satellites: 2
Rings: 0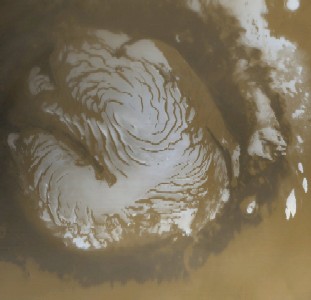 This is an image of the Martian north pole in summer. Photo courtesy of NASA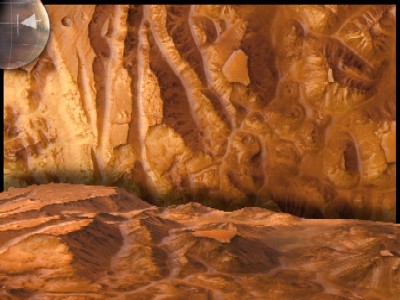 This image shows a portion of a 1,700 km long and 65 km wide swath which was taken in south-north direction across the Grand Canyon of Mars (Valles Marineris) from two perspectives. Photo courtesy of NASA

Fact Monster/Information Please® Database, © 2007 Pearson Education, Inc. All rights reserved.