Ralph Nader - Biography
Updated February 21, 2017 |
Factmonster Staff

Ralph Nader
Consumer advocate and presidential hopeful
---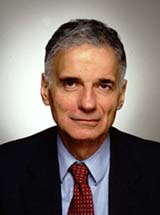 Nader is opposed to big insurance companies, "corporate welfare," and the "dangerous convergence of corporate and government power."
While consumer advocate/environmentalist
Ralph Nader
has virtually no chance of winning the
White House
, he has been taken quite seriously on the
campaign
trail.
Indeed, he poses the greatest threat to Sen. John Kerry. Democrats fear that Nader will be a spoiler, as he was in the 2000 election, when he took more than 97,000 votes in Florida. Bush won Florida by just 537 votes. The win gave Bush the election. Nader, an independent candidate, who also ran in 1992 and 1996, is on the ballot in 33 states, including Florida, Ohio, Wisconsin, and New Mexico—tough battleground states. Kerry stands a chance of losing those vital states if Nader siphons away the votes of Democrats. President Bush and Kerry have been in a statistical dead heat in nationwide polls, and votes for Nader could well tip the balance in favor of Bush.
VITAL STATISTICS
Ralph Nader


• BORN: February 27, 1934, Winsted, Connecticut

• EDUCATION: AB Princeton University, 1955; LLB Harvard University, 1958.

• CAREER HIGHLIGHTS: consumer advocate and attorney; consultant to U.S. Department of Labor, 1963; founder, Public Citizen research group; author of several books, including Unsafe at Any Speed, 1965.
Really a Vote for Bush?
Many Kerry supporters contend that a vote for Nader is in reality a vote for Bush and have made concerted efforts to persuade Nader to throw his support behind the Democratic candidate. Nader, however, has held fast to his convictions that the two candidates are nearly indistinguishable and are pawns of big business.
Designing Cars for Everything but Safety
Nader was born in Winsted, Connecticut, on Feb. 27, 1934 to Lebanese immigrants Nathra and Rose Nader. Nathra ran a bakery and restaurant. As a child, Ralph played with David Halberstam, who's now a highly regarded journalist.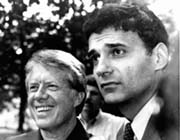 Nader with Democratic nominee Jimmy Carter outside of Jimmy Carter's home on August 7, 1976, discussing Consumer Protection. (Source/AP)
Nader graduated magna cum laude from Princeton in 1955 and from Harvard Law School in 1958. As a student at Harvard, Nader first researched the design of automobiles. In an article titled "The Safe Car You Can't Buy," which appeared in the Nation in 1959, he concluded, "It is clear Detroit today is designing automobiles for style, cost, performance, and calculated obsolescence, but not—despite the 5,000,000 reported accidents, nearly 40,000 fatalities, 110,000 permanent disabilities, and 1,500,000 injuries yearly—for safety."
Early Years as a Consumer Advocate
After a stint working as a lawyer in Hartford, Connecticut, Nader headed for Washington, where he began his career as a consumer advocate. He worked for Daniel Patrick Moynihan in the Department of Labor and volunteered as an adviser to a Senate subcommittee that was studying automobile safety.
In 1965, he published Unsafe at Any Speed, a best-selling indictment of the auto industry and its poor safety standards. He specifically targeted General Motors' Corvair. Largely because of his influence, Congress passed the 1966 National Traffic and Motor Vehicle Safety Act. Nader was also influential in the passage of 1967's Wholesome Meat Act, which called for federal inspections of beef and poultry and imposed standards on slaughterhouses, as well as the Clean Air Act and the Freedom of Information Act.
"Nader's Raiders" and Modern Consumer Movement
Nader's crusade caught on, and swarms of activists, called "Nader's Raiders," joined his modern consumer movement. They pressed for protections for workers, taxpayers, and the environment and fought to stem the power of large corporations.
In 1969 Nader established the Center for the Study of Responsive Law, which exposed corporate irresponsibility and the federal government's failure to enforce regulation of business. He founded Public Citizen and U.S. Public Interest Research Group in 1971, an umbrella for many other such groups.
A prolific writer, Nader's books include Corporate Power in America (1973), Who's Poisoning America (1981), and Winning the Insurance Game (1990).