/ U.S.
A Look at Some of the Country's Most Unique Colleges
Updated March 17, 2017 |
Factmonster Staff

These colleges pride themselves on being out of the ordinary
by Mark Zurlo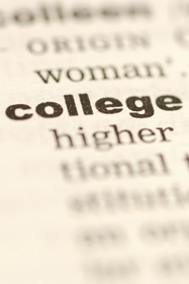 Related Links
Many college students share stress about grades, high tuition costs, and cramped living arrangements. For others, however, such inconveniences are nonexistent. From a college designed specifically for high school students to one that doesn't provide students with grades, here are some of the country's most unique institutions.
Berea College, Berea, Kentucky
The first interracial, coeducational college in the south,  Berea specializes in attracting students who may be otherwise unable to afford a college education. Berea students come from families with an average household income of $30,000, which is why the school's financial aid program is so important. All students receive full-tuition scholarships in exchange for 10-15 hours of on-campus work per week.
Deep Springs College, Deep Springs, California
Deep Springs, an all-male school, has one of the smallest student bodies in the country at 26. The college accepts only 10% of applicants, and maintains its own cattle herd. Students relish the school's isolated location — 45 miles away from the nearest established town. Electricity is generated mainly through solar power, and the college sometimes sells excess electricity to Pacific Gas and Electric. While the school is only a two-year institution, most graduates transfer to top schools, and half go on to earn doctoral degrees.
Evergreen State College, Olympia Washington
At  Evergreen State, students do not receive traditional letter grades. Instead, professors issue narrative evaluations of students' work at the end of each semester. The curriculum is structured around the "Coordinated Studies Program," which focuses on providing students with a well-rounded education across a number of different areas. The college sits on 1,000 breathtaking acres, a portion of it on Puget Sound.
Hampshire College, Amherst, Massachusetts
Considered an "experimenting" college because of its constantly changing curriculum, Hampshire College does not feature a traditional grading system. Instead, the school requires students to complete three different divisions. The first division features classes in each of the college's five "schools of thought." The second division requires students to complete two years' worth of courses in their selected field of study. Many students design their own degree program, often combining different subjects. The third division requires students to complete a project that pertains to their area of study. The project lasts one year and features little or no in-class time. Once the project is completed, it is not given a grade, but a written evaluation, as are other projects students complete throughout their time at Hampshire.
Kalamazoo College, Kalamazoo, Michigan
While consistently ranked as one of the country's top academic institutions, Kalamazoo is best known for what its students do while they are not on campus. The college offers an elite study abroad program, with 85% of students traveling abroad during their academic career. The school has partnerships with 50 foreign universities. Also, the school has the greatest percentage of U.S. students who go on to serve in the Peace Corps after graduation.
Oberlin College, Oberlin, Ohio
Oberlin is not only the home of one of the country's top music conservatories, it's also exceptional for its "Experimental College" department, which allows undergraduates to design and teach their own courses in areas not already covered by existing classes. All students are also required to earn three winter session credits, which often take the form of a self-designed project or field study.
Olin College, Needham, Massachusetts
Olin, an engineering-focused school of only 300 students incorporates team projects and group collaborations to replicate the day-to-day interaction of professional engineers. All accepted students are offered full-tuition scholarships, and students take all exams on their own time outside of class. They are allowed to use whatever sources necessary to complete the exams, as long as long as they don't involve other students. As an added bonus, all Olin students stay in apartments with kitchens that are fully furnished with cookware and utensils. The school's curriculum is only considered valid for a period of five years, after this every program is carefully reviewed. All professors have five year contracts to coincide with this cycle.
Thomas More College, Merrimack, New Hampshire
With only 78 students, it would be hard to image Thomas More College having many elaborate traditions, however, each fall students eagerly await the "saints vs. sinners" football game in which students can play for whichever side they see fit. Each spring, the Catholic school celebrates the birthday of its patron saint with a medieval feast. In addition to these traditions, Thomas More College is made unique by the fact that its curriculum is based on the "Humanities Cycle," which allows students, no matter their year, to cover the same material at the same time. In addition to this, all students spend one of their sophomore semesters studying in Rome, Italy.
Simon's Rock College of Bard: Great Barrington, Massachusetts
With an average age of 16, Simon's freshmen enter Simon's Rock college after their sophomore or junior year of high school. Simon's Rock College students often do not earn high school degrees, but they regularly transfer to some of the country's top schools after two years. With only 350 students, all professors and students are on a first-name basis, and there are very few lecture-based classes within the liberal-arts based curriculum.