/ Barack Hussein Obama, Jr.
Barack Hussein Obama, Jr.
Updated February 21, 2017 |
Factmonster Staff

The Democratic president was re-elected in 2012
by Beth Rowen and Jennie Wood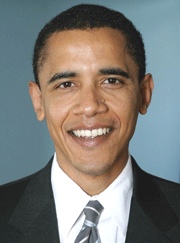 Related Links
After a historic and bruising 22-monthlong campaign, Sen. Barack Obama was elected the 44th president of the United States on Nov. 4, 2008. He prevailed over Sen. John McCain in what was probably the most pivotal U.S. election since World War II. He took the oath of office on Jan. 20, 2009, and became the first black U.S. president.
Four years later, on Nov. 6, 2012, Obama was re-elected, narrowly defeating Republican nominee Mitt Romney. Obama prevailed in both the electoral college (303 to 206) and the popular vote (50% to 48%), buoyed largely by taking several crucial battle states, including Colorado, Iowa, Ohio, New Hampshire, Virginia, and Wisconsin.
Obama's First Term
On his second day in office in January 2009, President Barack Obama signed executive orders to suspend military tribunals of terror suspects, close all secret prisons and detention camps run by the CIA—including the infamous Guantanamo Bay prison—and ban coercive interrogation methods. He, however, did not rule out the use of tribunals, saying he would review the Bush administration's policies on handling detainees. In March 2011, Obama reversed course on two fronts, allowing military tribunals to move forward at Guantanamo, thus admitting that the prison will remain open for the foreseeable future. His decision followed legislation passed in 2010 that prevents prisoners from being transferred from the prison to the U.S. for trial.
Obama's orders also said that the C.I.A. can only use the 19 interrogation methods mentioned in the Army Field Manual. The move ended Bush's policy of allowing the CIA to use methods that were not permitted by the military. "We believe we can abide by a rule that says we don't torture, but we can effectively obtain the intelligence we need," Obama said.
In October 2009, Obama won the Nobel Peace Prize for "his extraordinary efforts to strengthen international diplomacy and cooperation between peoples." Obama responded to the honor with surprise and humility, saying that the award was a "call to action" to engage other nations around the world to promote peace. In his acceptance speech in December, Obama acknowledged the apparent irony that he was given a prize for peace while leading a country fighting in two wars, but claimed that the wars in Afghanistan and Iraq are both necessary and just. He agreed, however, that he had a lot of work ahead of him to improve the lives of Americans and the others around the world.
2008 Campaign Battle
By taking advantage of the Internet and the power of text messaging on mobile phones, Obama ran an innovative campaign that appealed to young voters. Shunning public financing for his election, Obama raised an unprecedented amount of money, much of it from small donors. Prior to the financial crisis, the wars in Iraq and Afghanistan dominated the campaign. Obama presented himself as the candidate for change and stressed that a McCain presidency would mirror the policies of the Bush administration.
As a political newcomer, Obama faced an uphill battle in convincing voters that he would be ready to lead the nation. Indeed, throughout the long and often bitter campaign for the Democratic nomination, he and Sen. Hillary Clinton ran neck-and-neck in the primaries and caucuses. Obama and Clinton competed fiercely for the support of working-class voters, and each candidate tried to paint the other as elitist. Obama met sharp criticism for his association with his former pastor, the combative and controversial Rev. Jeremiah Wright. Obama denounced Wright after several of his divisive sermons popped up in the media. Wright's charged statements prompted Obama to address the race issue, and he earned wide praise for his speech on race relations, "A More Perfect Union."
Running as the candidate of change, Obama made hope the center of his campaign. His platform focused on advocating for working families and poor communities, education, caring for the environment, and ethics reform.
Formative Years
Obama was born in Hawaii to a Kenyan father and American mother. His father was raised in a small village in Kenya where he herded goats until he earned a scholarship to study in America. After his parents divorced, Obama's Harvard-educated father then returned to Kenya, where he worked in the economics ministry. Obama was raised by his mother in both Hawaii and Jakarta, Indonesia. He later moved to New York City to attend Columbia University, where he earned his undergraduate degree.
Obama moved to Chicago after college and worked extensively in the inner city to improve living conditions and reduce the unemployment rate in high-crime neighborhoods. He then attended Harvard Law School, graduated magna cum laude, and served as the first African-American president of the Harvard Law Review. After receiving his degree from Harvard Law School, he returned to Chicago and practiced as a civil rights lawyer.
Personal Life
Obama is married to Michelle Obama, a Chicago native who also graduated from Harvard Law School. Barack and Michelle met in Chicago, where they both worked for the law firm Sidley and Austin. Michelle worked in corporate law for three years before pursuing a career in public service. She has worked for the city of Chicago, and she co-founded Public Allies, which helps young adults acquire skills to work in the public sector. In 2005 she was appointed vice president of community and external affairs at the University of Chicago Medical Center. Barack and Michelle have two daughters, Malia Ann and Sasha.
Political Career
His advocacy work on the local level in Chicago led to a run for the Illinois State Senate. Obama served for four years as a state senator and used his position to create programs such as the state Earned Income Tax Credit that provided more than $100 million in tax cuts to families over three years. He also generated an expansion in early childhood education and worked to pass legislation that requires all interrogations and confessions in capital cases to be videotaped.
Obama's eloquent keynote speech at the 2004 Democratic National Convention earned him wide praise him and cemented his reputation as one of the party's freshest and most inspirational new faces. In 2004, he was elected to the U.S. Senate, winning with 70% of the vote against the conservative black Republican, Alan Keyes. Obama became the only African-American serving in the U.S. Senate (and the fifth in U.S. history). Obama's idealism, commitment to civil rights, and telegenic good looks generated enormous media attention for his Senate campaign. He worked with Republicans on issues such as weapons control and ethics reform, yet voted with other Democrats against President Bush's surge of 20,000 troops to Iraq and in favor of a resolution that required combat troops to be fully withdrawn by March 2008.
He served on the Senate's Health, Education, Labor, and Pensions Committee; the Foreign Relations Committee; the Veteran's Affairs Committee; and the Environment and Public Works Committee.
2008 Presidential Nomination Acceptance Speech
Obama accepted the Democratic presidential nomination before some 83,000 people at Invesco Field rather than the convention hall in Denver. His acceptance coincided with the 45th anniversary of the March on Washington, during which Rev. Martin Luther King Jr. gave his pivotal "I Have a Dream" speech. In his speech, Obama attacked John McCain on several fronts, including national security and his support for many of the policies of the Bush administration, and outlined his plans for the economy, the environment, and health care. Calling McCain out of touch with the economic woes of working-class America, Obama said, "It's not because John McCain doesn't care. It's because John McCain doesn't get it."
Obama's Presidency
Obama took office in the midst of a severe recession. His first major piece of legislative was the American Recovery and Reinvestment Act, a $787 billion spending bill, or "stimulus package," designed to create jobs and reignite the economy. Soon to follow were executive orders that reversed Bush's policies on stem cell research and interrogation techniques for enemy detainees.
In 2009, Obama pushed Congress to pass legislation on health care reform in the United States. Health care reform was a chief legislative goal and a major campaign promise. On March 21, 2010, after months of debate, the House passed the Patient Protection and Affordable Care Act (the Senate voted in favor of the legislation in December 2009). Obama signed the bill into law two days later. In June 2012, the Supreme Court upheld most of President Barack Obama's healthcare law, including the individual mandate, which requires that most Americans buy health insurance or pay a fee. The individual mandate was the centerpiece of the law. The court ruled, 5â4, that the individual mandate is constitutional under Congress's taxing authority. The Court also upheld the expansion of Medicaid, the government's health insurance program for low-income Americans, but limited the provision, saying states will not necessarily lose their funding if they choose not to expand the program. It was one of the most anticipated rulings in recent history and a major victory for Obama in an election year.
In the November 2010 midterm election, Democrats lost 63 seats, therefore, losing control of the House of Representatives. In a speech about the election outcome, Obama called the loss "humbling" and a "shellacking" and blamed it on the slow economic recovery. The following summer, Congress became gridlocked in a battle over whether to raise the debt ceiling, bringing the government to the brink of default. Because of the gridlock, Standard & Poor's downgraded the nation's credit rating for the first time in history. By the fall of 2012, there were signs that the recovery from the 2008 recession had stalled with job growth continuing to come up short, the unemployment rate hovering at 8%, and the stock market experiencing ups and downs.
On social issues, Obama won praise from the gay community and its supporters. In Deceber 2010, he signed the repeal of the Don't Ask Don't Tell military policy, and in May 2012 he came out in support of gay marriage.
Bin Laden Killed
Perhaps the biggest triumph of Obama's presidency came on May 2, 2011, when Navy SEALS and and CIA operatives shot and killed Osama bin Laden in Abbottabad, Pakistan. The operation was a risky one for Obama; despite months of intelligence work leading up to the raid, there was no guarantee bin Laden would be in the compound. The risk paid off when the world's most wanted terrorist was finally killed nearly 10 years after the Sept. 11, 2001, terrorist attacks.
A month after bin Laden was killed, Obama announced that the U.S. had largely achieved its goals in Afghanistan and that time had come to start withdrawing troops and begin "to focus on nation-building here at home." He said about 10,000 of the 30,000 troops deployed in 2009 as part of the surge would leave the country. In February 2012, the Obama administration announced that the military would end its combat role in Afghanistan by the middle of 2013 and shift toward an "advise and assist" capacity.
On December 15, 2011, Obama declared that the U.S.-led war in Iraq had officially ended. The war, launched in March 2003, lasted nearly nine years, killed more than 4,440 U.S. troops, and cost about $1 trillion.
Re-election Campaign
Former Massachusetts governor Mitt Romney secured the Republican presidential nomination and has based his campaign on the economy, saying that Obama had failed to lift the economy out of turmoil and that the American people are no better off than they were four years ago. Obama is running on his accomplishments and is warning voters that Romney is weak on foreign policy and that a Romney administration would protect the rich at the expense of the middle and working classes. Social issues have also figured prominently in the campaign. In choosing Rep. Paul Ryan as his running mate, Romney has veered right on abortion, same-sex marriage, and immigration, hoping to win the support of the party's conservative base.
The race has shaped up to be one of the closest in recent history, with the election being decided in just a few dozen districts.