/ Recent History of the Israeli-Palestinian Conflict
Recent History of the Israeli-Palestinian Conflict
Updated February 21, 2017 |
Factmonster Staff

Mounting pressure for a two-state solution restarts peace talks in 2013
By Jennie Wood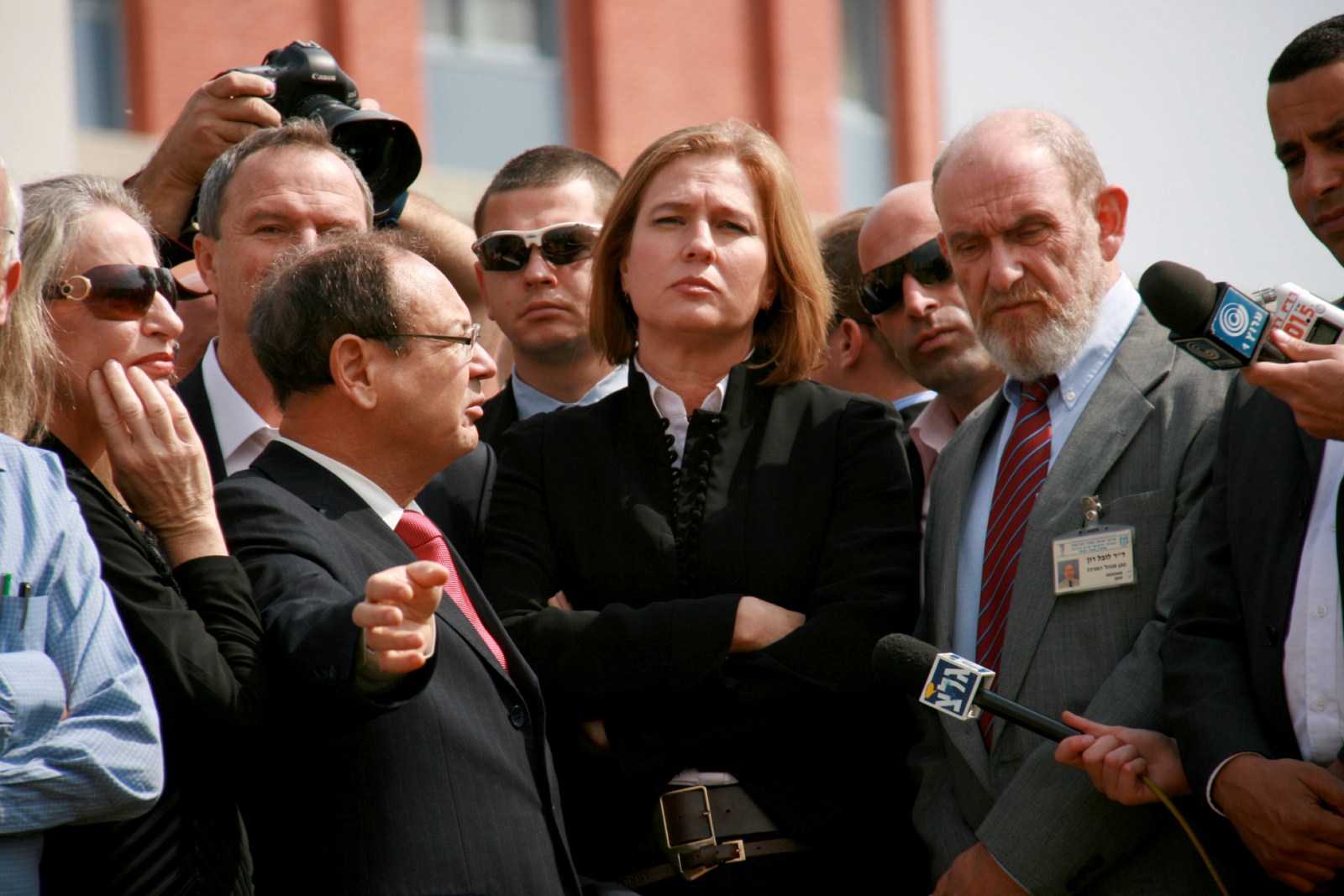 Tzipi Livni, Israel's Justice Minister and chief negotiator in 2013
Related Links
More pressure for a two-state solution came in 2011. On May 4, Fatah and Hamas, the rival Palestinian parties, signed a reconciliation accord, citing the common cause of opposition to the Israeli occupation and shared disillusionment with American peace efforts as reasons for the détente. The deal reworked the Palestine Liberation Organization, which had previously excluded Hamas.
The Palestinians Request Membership to UN, Give up on Talks with Israel
On May 16, the New York Times published an opinion piece written by Palestinian president Mahmoud Abbas. He stated that at the September 2011 United Nations General Assembly, Palestine will request international recognition based on the 1967 border. The State of Palestine will also request full membership to the UN. He wrote that negotiations remained the Palestinians' first option, but "due to their failure we are now compelled to turn to the international community to assist us in preserving the opportunity for a peaceful and just end to the conflict."
On September 23, 2011, Abbas officially requested a bid for statehood at the UN Security Council. The request came after months of failed European and U.S. efforts to bring Israel and Palestine back to the negotiating table. The Palestinian Authority requested a Security Council vote to gain statehood as a full member of the UN rather than going to the General Assembly. One of the reasons for this was that the General Assembly could only give the Palestinian Authority non-member observer status at the UN, a lesser deree of statehood. In addition, the European states in the General Assembly made it clear that they would support the proposal if the Palestinians dropped their demand that Israel halt settlement construction. The Palestinians have long insisted that Israel cease the settlement construction and deemed the condition unacceptable. Therefore, the Palestinian Authority preferred to take its case to the Security Council even though the U.S. has vowed to veto the request.
Gilad Shalit Released After More Than Five Years in Prison
On October 18, 2011, Gilad Shalit, a twenty-five year old Israeli soldier, was released after being held for more than five years by Hamas, a militant Palestinian group. Shalit was exchanged for one thousand Palestinians who had spent years in Israeli jails. Some of the Palestinians released were convicted planners or perpetrators of deadly terrorist attacks. A prisoner swap of this kind almost happened in late 2009, but talks between Israel and Hamas collapsed. This time the difference maker was Egypt who mediated the deal.
There was concern among Israelis over releasing known terrorists into the hands of Hamas. Many feared further attacks. Hamas' comments only added to the anxiety. After the swap, Hamas called for its members to capture more Israel soldiers in order to exchange them for the remaining 5,000 Palestinian prisoners being held in Israel. Also, while both sides celebrated the exchange on October 18, Israeli soldiers and Palestinians fought in the West Bank.
Still many saw the exchange as a sign of hope. Shalit's release had become a national obsession and crusade in Israel. He had been held in Gaza since Palestinian militants kidnapped him during a cross-border raid in 2006. In a televised address following Shalit's release, Israel's Prime Minister Benjamin Netanyahu said, "Today we are all united in joy and in pain." Shalit was the first captured Israeli soldier to be returned home alive in 26 years.
Violence Erupts with Hamas in November 2012
Throughout the fall of 2012, militant groups in Gaza fired rockets into Israel with increasing frequency. Israel responded in mid-November with one of its biggest attacks on Gaza since the 2008 invasion. The attack killed Hamas military commander, Ahmed al-Jabari. In the following days, Israel continued to target members of Hamas and other militant groups in Gaza, and Hamas launched several hundred rockets, with some hitting Tel Aviv.
Egypt, while a staunch supporter of Hamas, attempted to broker a peace agreement between Hamas and Israel to prevent the conflict from further destabilizing the region. On Nov. 21, Egypt's Foreign Minister Mohamed Kamel Amr, and U.S. Secretary of State Hillary Clinton announced a cease-fire had been signed. Both sides agreed to end hostilities toward each other and Israel said it would open Gaza border crossings, allowing the flow of products and people into Gaza, potentially lifting the 5-year blockade that has caused much hardship to those living in the region.
UN Approves Non-Member State Status
On November 29, 2012, the United Nations General Assembly approved an upgrade from the Palestinian Authority's current observer status to that of a non-member state. The vote came after Palestinian president Mahmoud Abbas spoke to the General Assembly and asked for a "birth certificate" for his country. Of the 193 nations in the General Assembly, 138 voted in favor of the upgrade in status.
While the vote was a victory for Palestine, it was a diplomatic setback for the U.S. and Israel. Having the title of "non-member observer state" would allow Palestine access to international organizations such as the International Criminal Court (ICC). If it joins the ICC, Palestine could file complaints of war crimes against Israel. After the vote, Palestinian foreign minister Riyad al-Maliki spoke in a press conference about working with the ICC and other organizations. He said, "As long as the Israelis are not committing atrocities, are not building settlements, are not violating international law, then we don't see any reason to go anywhere. If the Israelis continue with such policy - aggression, settlements, assassinations, attacks, confiscations, building walls - violating international law, then we have no other remedy but really to knock those to other places." In response to the UN vote, Israeli Prime Minister Netanyahu announced that Israel would not transfer about $100 million in much-needed tax revenue owed to the struggling Palestinian Authority and would resume plans to build 3,000-unit settlement in an area that divides the north and the south parts of the West Bank, thereby denying the Palestinians any chance for having a contiguous state.
New Peace Talks Begin in Summer 2013
In late July 2013, Israeli and Palestinian negotiators agreed to begin peace talks with the goal of reaching an agreement within nine months. The initial meeting took place at the State Department in Washington D.C. and was attended by Israel's Justice Minister and chief negotiator Tzipi Livni and senior Palestinian official Saeb Erekat. On August 14, 2013, Israelis and Palestinians officially began peace talks in Jerusalem. Expectations were low going into the talks, the third attempt to negotiate since 2000, and nearly five years since the last attempt. The talks began just hours after Israel released 26 Palestinian prisoners. The prisoner release was a step on Israel's part to bring Palestine back to the negotiating table. Israel said the prisoner release would be the first of four. However, Palestinian officials were concerned over Israel's ongoing settlement building in the West Bank and east Jerusalem, land that would be part of an official Palestinian state.
Israel freed another 26 Palestinian prisoners as part of the current U.S.-brokered peace talks in October. However, soon after the prisoners were released, the Israeli government reported it planned to build 1,500 new homes in east Jerusalem, an area claimed by the Palestinians. The settlement announcement was seen as a concession to the right after the prisoner release. By Nov. 2013, peace talks appeared to be on the verge of collapse when a Palestinian negotiator said no deal would be better than one that allowed Israel to keep building settlements.
Ariel Sharon Dies
Former Prime Minister Ariel Sharon died on January 11, 2014. The official cause of death was heart failure, although Sharon had been in a coma since suffering a stroke on January 4, 2006. Also a soldier, Sharon fought in all of the Israeli-Arab wars. In 1973, he formed the Likud party and, the following year, was elected into Israel's parliament. Sharon remained involved in Israel's government in one position or another until his stroke in 2006. He was prime minister at the time of the stroke and was replaced by Ehud Olmert.
Latest Peace Talks Halted
When Israel failed to release the promised last batch of prisoners in late March 2014, U.S. Secretary John Kerry headed there in an attempt to rescue the latest round of peace talks. Israel had promised to release Palestinian prisoners in four groups and released the first three groups. But Israel's failure to release the last group of 26 prisoners as well as their continued settlement expansion in the West Bank threatened to derail a peace agreement that was supposed to be reached by the end of April 2014. Palestine said that the peace talks would end on April 29 if Israel did not release the 26 prisoners.
In April 2014, the troubled peace talks hit another snag when Palestinian leadership and Hamas forged a new reconciliation agreement. The new unity deal angered the Israeli government. Israel's Prime Minister Netanyahu reacted by saying that Palestinian President Abbas was choosing "Hamas, not peace." The U.S. government warned that the new accord could prevent any progress in the Israeli-Palestinian peace talks. Since 1997, Hamas has been a designated foreign terrorist organization by the U.S. State Department. On April 24, 2014, the day after the Palestinian leadership announced its new unity deal with Hamas, Israel responded by halting the peace talks. The deadline for this latest round of peace talks passed without an agreement a week later.
Murders of Israeli and Palestinian Teenagers Increase Tension
In June, three Israeli teenagers were kidnapped and killed while hiking in the occupied West Bank. Their bodies were recovered days later and a burial was held in early July. Hamas leaders praised the kidnapping and killing of the three teenagers, but did not take credit for the incident. The day after their burial, the burned body of a missing Palestinian teenager was found in a forest near Jerusalem. The incidents increased tension between Israelis and Palestinians, including riots in East Jerusalem and an exchange of rocket fire in Southern Israel and Gaza, where Israel targeted Hamas.
The situation continued to escalate throughout July. Hundreds of rockets were launched into Israel by militant groups in Gaza. The rockets reached areas in Israel that previous rocket attacks could not. Israel's Iron Dome intercepted at least one rocket over Tel Aviv, while another reached the outskirts of Jerusalem. In response, Israel launched an aerial offensive in Gaza, killing dozens of Palestinians. On July 17, 2014, Israel launched a ground offensive. Hamas said they had captured an Israeli soldier three days later. Israel's military confirmed that one of its soldiers went missing after an Israeli personnel carrier transporting seven soldiers was hit by a missile on July 20. The bodies of the other six soldiers were recovered and identified.
On July 24, 16 Palestinians were killed and more than 100 wounded in an attack on a UN elementary school in Gaza. Israel denied launching the attack, saying Hamas militants were responsible, missing their target. The UN Security Council issued a statement on July 28 calling for a humanitarian cease-fire. Later that day, a hospital and a refugee camp in Gaza were hit, killing about 10 children. Israel blamed the attack on a "failed rocket attack launched by Gaza terrorists," and Hamas said the sites were hit by Israeli drones.
After fighting for seven weeks and attempting several short-term cease-fires, Israel and Hamas agreed to an open-ended cease-fire on Aug. 26. The agreement was mediated by Egypt. The interim agreement still had Hamas in control of Gaza while Israel and Egypt still controlled access to Gaza, leaving no clear winner in this latest conflict. However, Hamas declared victory. Meanwhile, Israeli Prime Minister Benjamin Netanyahu was criticized in Israel for how costly the conflict has been. Since the conflict began in early July, 2,143 Palestinians were killed, mostly civilians, with more than 11,000 wounded and 100,000 left homeless. On Israel's side, 64 soldiers and six civilians were killed.
Worst Outbreak of Violence in Years
During the first two weeks of Oct. 2015, 32 Palestinians and seven Israelis were killed in what was the biggest spike in violence the area has seen in recent years. The violence broke out in part over what the Palestinians saw as increased encroachment by Israelis on the al-Aqsa mosque on the Temple Mount in Jerusalem, a site important to both Muslims and Jews. However, the violence quickly spread beyond Jerusalem.
On Oct. 16, at the request of council member Jordan, the United Nations Security Council held a meeting to discuss the area's increasing unrest. During the meeting, France proposed that an international observer be placed at the al-Aqsa mosque, but that idea was rejected by Israel. Meanwhile, U.S. Secretary of State John Kerry called for Israeli and Palestinian leaders to meet and agree on a plan to stop the violence.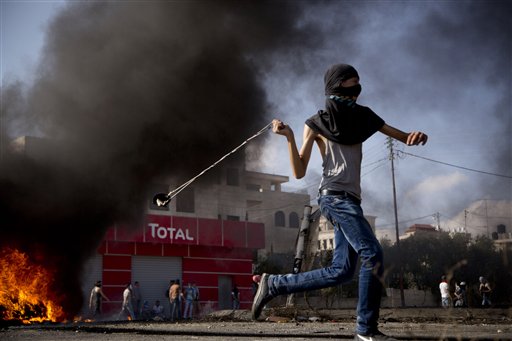 Palestinian hurls a stone in clashes with Israeli troops,
near Ramallah, West Bank, Oct. 2015
Source: AP Photo/Majdi Mohammed
Sources: Associated Press, New York Times, mideastweb.org, The Economist, and BBC.