/ Romania
/ history
Romania History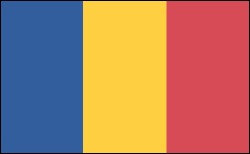 Index
History
Attempting Post-Communist Government
An ex-Communist, Ion Iliescu of the National Salvation Front, served as president from 1990?1995. Emil Constantinescu of the Democratic Convention Party was president from 1996?2000. The post-Communist governments' conflicted and halfhearted attempts to change to a free-market economy have been largely unrealized. Growing dissatisfaction with the government's inefficiencies and economic policies led to a wave of protests by workers, students, and others that peaked in 1997, and again in 1999. In 2000 former president Iliescu returned to power with a landslide victory, easily defeating a xenophobic nationalist opponent. Discrimination against the Magyars (ethnic Hungarians) and the Roma (Gypsies) continues, fueled by several ultranationalist political parties.
Romania joined NATO in 2004. The following year, the EU approved the entry of Romania. Final acceptance into the EU was based on a number of reforms, including increased law enforcement and environmental measures and the protection of the rights of the Roma minority. Romania became an official member of the EU in 2007. At the time, President Traian Basescu earned international praise for his anti-corruption campaigns and for paving the way for Romania to join the European Union.
However, that praise and high opinion of President Traian Basescu did not last. In April 2007, Parliament voted to suspend Basescu, citing abuse of power. Tension had been growing between Basescu and the government of Prime Minister Calin Tariceanu. The president of the Senate, Nicolae Vacaroiu, was named acting president. In a May referendum, 74% of the electorate voted against impeaching Basescu, and he was reinstated as president. Observers saw the vote as an endorsement of Basescu's agenda of reform and rooting out corruption.
Following inconclusive general elections in November 2008, economist and former prime minister Theodor Stolojan was asked by President Basescu to form a new cabinet. On December 15, Stolojan withdrew from the race and Emil Boc was named prime minister.
The Social Democrat Party (PSD) pulled out of the governing coalition in October 2009, leaving Boc as the head of a minority government, which thereafter lost a confidence vote in Parliament. Member of Parliament cited Boc's failure to pull the country out of recession. In November, Parliament rejected President Traian Basescu's choice for prime minister, Lucian Croitoru, and Boc stayed in office as caretaker. Basescu was narrowly reelected in December's run-off election against Mircea Geoana, of the opposition Social Democrats', and asked Boc to form a new coalition government. Boc quickly introduced stringent budget cuts and vowed to address the country's financial crisis.
---