/ Romania
/ news and current events
Romania News & Current Events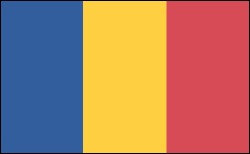 Index
News and Current Events
Protests Demand New Government
On January 19, 2012, thousands of protesters gathered in Bucharest. The demonstration came after a week of protests, which at times turned violent and were against austerity measures. Protesters demanded new elections and called for President Traian Basescu and Prime Minister Emil Boc to resign. Much like the situation in Spain and Greece, Romania's struggling economy has left many of its citizens frustrated. However, the incident that sparked the protests was the resignation of Raed Arafat, a popular health official. Arafat resigned earlier in January over a government proposal to partly privatize the country's medical emergency-response system. Arafat was reinstated and plans for the proposal were shelved, but the protests continued. According to Romania's media, fifty-five people were arrested and five were injured in the January 19 demonstration.
In February 2012, after weeks of protests, Prime Minister Emil Boc resigned. President Basescu immediately named Justice Minister Catalin Predoiu as the interim prime minister. Later Basescu nominated Mihai-Razvan Ungureanu as Boc's permanent replacement. Ungureanu's appointment was approved by the parliament. Ungureanu, a former foreign minister and the current director of Romania's foreign-intelligence service, assumed office on February 9, 2012. Protests continued through February, but on a smaller scale. The latest demonstrations reflected the protesters discontent with their wages, unemployment and corruption in the government.
Prime Minister Ungureanu promised to focus on reforms and maintaining the country's economic stability despite the ongoing political crisis. However, after just two and a half months, Ungureanu and his cabinet could not pass a no-confidence vote. In April 2012, President Basescu appointed Victor Ponta as the new prime minister. Ponta has been the leader of the Social Democratic Party since 2010.
Basescu Faces Second Referendum
In early July 2012, Parliament voted to impeach President Basescu. Prime Minister Ponta and his Social Liberal Union accused Basescu of violating the Constitution and being a dictator. The accusation came even though the Romanian prime minister has more power than the president. Ponta's governing coalition also fired the speakers in both chambers of Parliament, a move which the opposition deemed unconstitutional.
On July 29, 2012, a majority voted for Basescu's dismissal, but the Constitutional Court ruled the referendum invalid due to low voter turnout. Turnout was 46%, just below the 50% needed in order to make the vote valid. Basescu returned to office on Aug. 27, 2012. It was the second referendum Basescu had faced. In 2007, 74% of the voters elected to keep him in office.
As a result of Dec. 2012 parliamentary elections, the new year brought a ruling alliance of social democrats and liberals, with President Traian Basescu and Prime Minister Victor Ponta agreeing to cooperate on common goals, and follow a code of good manners.
However, two years later, on June 19, 2014, Basescu announced he was ending his presidency due to a corruption scandal. His younger brother, Mircea Basescu, was accused of taking bribes and arrested. The scandal and Basescu's announcement came five months before presidential elections. Having already served twice, Basescu would not have been allowed to run for president in the Nov. 2014 election anyway.
Iohannis Becomes President in Election Shocker
On Nov. 16, 2014, Klaus Iohannis beat Prime Minister Victor Ponta in a presidential election runoff. Iohannis received 54.4% of the vote and Ponta received 45.6%. It was a surprise victory for Iohannis, the mayor of Sibiu and National Liberal Party leader, especially since Ponta had been the favorite in the polls leading up to the election. Previously, Iohannis was a physics teacher and school inspector.
After his presidential election defeat, Ponta remained on as prime minister. He planned to stay in that position until the 2016 general election.
Ponta Resigns after Nightclub Fire Protests
Prime Minister Ponta resigned on Nov. 4, 2015, in response to a nationwide protest demanding resignations after an Oct. 30 nightclub fire killed 32 people. Protesters took to the streets upset over the way Romanian authorities grant permits and inspect venues. An estimated 25,000 demonstrators marched in Bucharest. Ponta took responsibility for the nightclub fire and stepped down. In a press conference, he said, "I can carry any political battles, but I can't fight with the people." Ponta had ignored all previous calls for his resignation.
On Nov. 5, former Minister of Education Sorin Cimpeanu took over as an interim prime minister until parliament selected a new government. Leaving office, Ponta faced accusations of forgery, money-laundering, and being an accessory to tax evasion. The charges, which he has denied, were from his years practicing law. On Nov. 17, 205, former Agriculture Minister Dacian Ciolos took office as prime minister after receiving approval from Parliament. Ciolos' cabinet included twenty-one members, one third of them women.
See also Encyclopedia: Romania .
U.S. State Dept. Country Notes: Romania
---