/ Uruguay
/ News and current events
Uruguay News & Current Events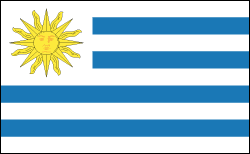 Index
News and Current Events
Mujica Pushes for Legalization of Marijuana in 2012
In June 2012, President Mujica called for the legalization and regulation of marijuana in Uruguay. The announcement came with the explanation that it was a move to end drug trafficking in the country. One of the lawmakers working on the proposal, Sebastián Sabini said, "We want to separate the market, users from traffickers, marijuana from other drugs."
If Uruguay passed the bill, it would make them the first legalized marijuana republic in the world. The Netherlands passed a bill to ignore marijuana use and sales in 1976. In 2001, Portugal ended all criminal offenses for drug use, but, if the bill passed, Uruguay would take it one step further, a state-run marijuana industry.
The bill was met with opposition from political opponents, doctors, and even marijuana users who were concerned with how marijuana would be managed. Crime and addiction, already on the rise in the country, was another concern. The bill would call for the government to require users to sign up for registration cards. The cards would track and limit purchases to an amount like 40 joints a month, officials explained.
In October 2012, Uruguay's Senate approved a bill allowing women to have abortions during first trimester pregnancies. The house approved it the previous month and President Mujica supported it. Mujica planned to sign the bill into law by November 2012. The bill was set to become the most progressive abortion rights law in Latin America.
Uruguay Legalizes Same-Sex Marriage
On April 10, 2013, lawmakers in Uruguay voted to legalize same-sex marriage, becoming the 12th country in the world to do so. The new law made Uruguay the second country in Latin America to pass legislation in support of gay marriage. Uruguay's neighbor, Argentina legalized same-sex marriage in 2010. President Mujica and his coalition of political parties, Broad Front, backed the law. Mujica was expected to sign the new legislation within ten days.
Uruguay's marriage equality bill first passed through the senate with a vote of 23-8. Then it passed in the lower house by a vote of 71-21. The legislation was another step toward same-sex equality in the country. In 2009, Uruguay became the first Latin American country to allow adoption for same-sex couples. It was also the first country in Latin America to have civil union legislation for same-sex couples. That national civil union law was passed in 2008.
First Active General Convicted for Human Rights Violations
On May 9, 2013, General Miguel Dalmao became the first active general convicted for human rights violations during Uruguay's 1970s dictatorship. Dalmao was convicted and sentenced to serve 28 years in prison over the death of a communist professor. The professor was killed in 1974. Dalmao was a 23-year-old lieutenant at the time of the professor's death.
In Nov. 2014, Tabaré Vázquez won a runoff presidential election. Vázquez took 56.6% of the vote. Luis Lacalle Pou came in second with 43.4%. Vázquez would take office on March 1, 2015. It would be his second term as president. He previously served from 2005 - 2010.
Uruguay accepted six inmates released from the Guantánamo Bay prison in December 2014. The suspects—four Syrians, a Tunisian, and a Palestinia—were held for 12 years and never charged.
See also Encyclopedia: Uruguay .
U.S. State Dept. Country Notes: Uruguay
Statistical Department (In Spanish only) www.ine.gub.uy/ .
---