/ Vietnam
/ History
Vietnam History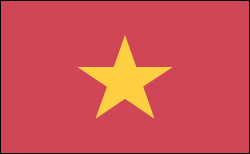 Index
History
Vietnam Splits North and South; America Enters the War
A bitter defeat at Dien Bien Phu in northwest Vietnam on May 5, 1954, broke the French military campaign and resulted in the division of Vietnam. In the new South, Ngo Dinh Diem, prime minister under Bao Dai, deposed the monarch in 1955 and made himself president. Diem used strong U.S. backing to create an authoritarian regime that suppressed all opposition but could not eradicate the Northern-supplied Communist Viet Cong.
Skirmishing grew into a full-scale war, with escalating U.S. involvement. A military coup, U.S.-inspired in the view of many, ousted Diem on Nov. 1, 1963, and a kaleidoscope of military governments followed. The most savage fighting of the war occurred in early 1968 during the Vietnamese New Year, known as Tet. Although the so-called Tet Offensive ended in a military defeat for the North, its psychological impact changed the course of the war.
U.S. bombing and an invasion of Cambodia in the summer of 1970—an effort to destroy Viet Cong bases in the neighboring state—marked the end of major U.S. participation in the fighting. Most American ground troops were withdrawn from combat by mid-1971 when the U.S. conducted heavy bombing raids on the Ho Chi Minh Trail—a crucial North Vietnamese supply line. In 1972, secret peace negotiations led by Secretary of State Henry A. Kissinger took place, and a peace settlement was signed in Paris on Jan. 27, 1973.
By April 9, 1975, Hanoi's troops marched within 40 miles of Saigon, the South's capital. South Vietnam's president Thieu resigned on April 21 and fled. Gen. Duong Van Minh, the new president, surrendered Saigon on April 30, ending a war that claimed the lives of 1.3 million Vietnamese and 58,000 Americans.
---