/ Vietnam
/ News and current events
Vietnam News & Current Events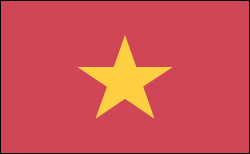 Index
News and Current Events
Border Clashes With Cambodia Continue
In 1977, border clashes between Vietnam and Cambodia intensified, as well as accusations by its former ally Beijing that Chinese residents of Vietnam were being subjected to persecution. Beijing cut off all aid and withdrew 800 technicians.
Hanoi was also preoccupied with a continuing war in Cambodia, where 60,000 Vietnamese troops had invaded and overthrown the country's Communist leader Pol Pot and his pro-Chinese regime. In early 1979, Vietnam was conducting a two-front war: defending its northern border against a Chinese invasion and supporting its army in Cambodia, which was still fighting Pol Pot's Khmer Rouge guerrillas. Hanoi's Marxist policies combined with the destruction of the country's infrastructure during the decades of fighting devastated Vietnam's economy. However, it started to pick up in 1986 under doi moi (economic renovation), an effort at limited privatization. Vietnamese troops began limited withdrawals from Laos and Cambodia in 1988, and Vietnam supported the Cambodian peace agreement signed in Oct. 1991.
Relations with America Improve as the Vietnamese Economy Reforms
The U.S. lifted a Vietnamese trade embargo in Feb. 1994 that had been in place since U.S. involvement in the war. Full diplomatic relations were announced between the two countries in July 1995. In April 1997, a pact was signed with the U.S. concerning repayment of the $146 million wartime debt incurred by the South Vietnamese government, and the following year the nation began a drive to eliminate inefficient bureaucrats and streamline the approval process for direct foreign investment. Efforts of reform-minded officials toward political and economic change have been thwarted by Vietnam's ruling Communist Party. In April 2001, however, the progressive Nong Duc Manh was appointed general secretary of the ruling Communist Party, succeeding Le Kha Phieu. Even with a reformer at the helm of the party, change has been slow and cautious.
In Nov. 2001, Vietnam's national assembly approved a trade agreement that opened U.S. markets to Vietnam's goods and services. Tariffs on Vietnam's products dropped to about 4% from rates as high as 40%. Vietnam in return opened its state markets to foreign competition.
The government highlighted its efforts to crack down on corruption and crime with the June 2003 conviction of notorious criminal syndicate boss Truong Van Cam, known as Nam Cam. He was sentenced to death, along with 155 other defendants, and executed in June 2004.
Prime Minister Phan Van Khai visited the United States in June 2005, becoming the first Vietnamese leader to do so since the Vietnam War ended. He met with President Bush and several business leaders, including Microsoft chairman Bill Gates. The U.S. is Vietnam's largest trading partner, buying about $7 billion in Vietnamese goods each year.
Corrupt Leadership is Forced to Resign, but Reform Continues
A corruption scandal rocked Vietnam in April 2006. Transport minister Dao Dinh Binh resigned amid allegations that members of his staff embezzled millions from the country and used the funds to bet on soccer games. His deputy Nguyen Viet Tien was arrested for his role in the scandal.
President Tran Duc Luong and Prime Minister Phan Van Khai resigned in June 2006, making way for two younger leaders, President Nguyen Minh Triet and Prime Minister Nguyen Tan Dung. Luong and Khai had led Vietnam since 1997 and were instrumental in Vietnam's two-decades-long transition to a market economy, called doi moi, or renovation.
Vietnam became the 150th member of the World Trade Organization in January 2007, after waiting 12 years to join the group.
Steps toward Marriage Equality
In November 2013, Vietnam took a huge step toward marriage equality by legalizing gay weddings. The government changed the law after two same-sex couples were fined for having marriage ceremonies, one in Kien Giang, the other in Ca Mau. The two couples were charged under the Law On Marriage & Family of Vietnam, a law that bans marriage between persons of the same sex. Prompted by this incident, the law was changed to legally allow same-sex weddings.
Under the change, same-sex couples would now officially have the right to live together. However, same-sex marriages would still not be legally recognized. Still, gay rights activists believed it was a large step on the path to marriage equality for Vietnam. Of the law change, Le Quang Binh, a gay rights activist and director of the Institute for Studies of Society, Economics and Environment, said, "We are going the right way in the fight for same-sex marriage. This might be the first step, but it will still change people's lives for the better."
Tension Increases with China Over Islands
Regional tension over claims to islands and resources in the South China Sea flared in 2012. For centuries, China has declared sovereignty over the sea and many of its islands, including the Paracel and Spratly islands, which are rich in oil and gas reserves and fish. However, Vietnam has also laid claim to the Paracel and Spratly island chains, and the Philippines say the Spratly Islands are within their territorial claims.
While the issue has been festering for decades, China took a tougher stance in 2012, warning other nations to refrain from oil and gas exploration and placing naval vessels in the South China Sea. At the same time, Vietnam and the Philippines have been more aggressively dispatching ships—both military and civilian—to the sea. There was little hope that the nations could solve the problem diplomatically, with China saying it would only negotiate bilaterally and both Vietnam and the Philippines both insisting that the U.S. and the Association of Southeast Asian Nations (ASEAN) mediate the dispute.
In 2014, tensions increased between China and Vietnam when Vietnamese officials reported that their vessels had been hit by Chinese ships. "On May 4, Chinese ships intentionally rammed two Vietnamese Sea Guard vessels," said Foreign Ministry official Tran Duy Hai, during a news conference in Hanoi, Vietnam. "Chinese ships, with air support, sought to intimidate Vietnamese vessels."
The situation intensified three days later when Vietnamese ships confronted Chinese ships. The Chinese vessels were placing an oil rig off the coast of Vietnam when the confrontation occurred. The placement of the rig also led to protests throughout Vietnam and some of those protests turned violent. On May 14, anti-China protesters set fire to at least 15 foreign-owned factories throughout Vietnam, according to state media. Protesters also destroyed and looted offices of manufacturing companies owned or managed by Chinese workers. At least one person died in the protests.
The Vietnamese government asked China to remove the rig and dispatched a naval flotilla to the area. The rig was placed in waters claimed by both Vietnam and China.
In October 2014, the U.S. partially lifted its ban on arm sales to Vietnam, allowing the sale of maritime weapons only. The policy change was intended to boost Vietnam's defensive capability in the South China Sea. It also reflected the warming of relations between the two nations and Vietnam's improved human-rights record.
The leader of Vietnam's Communist Party, Nguyen Phu Trong, met with President Barack Obama at the White House in July 2015. He was the first leader of the party to visit the United States. At their meeting, Trong expressed concern about the ongoing maritime dispute in the South China Sea.
See also Encyclopedia: Vietnam .
U.S. State Dept. Country Notes: Vietnam
---