/ Illinois
Illinois
State abbreviation/Postal code: Ill./IL
Governor: Bruce Rauner, R (to Jan. 2019)
Lieut. Governor: Evelyn Sanguinetti, R (to Jan. 2019)
Senators: Richard J. Durbin, D (to Jan. 2021); Mark Kirk, R (to Jan. 2017)
Historical biographies of Congressional members
Atty. General: Lisa Madigan, D (to Jan. 2019)
Secy. of State: Jesse White, D (to Jan. 2019)
Treasurer: Michael W. Frerichs, D (to Jan. 2019)
Organized as territory: Feb. 3, 1809
Entered Union (rank): Dec. 3, 1818 (21)
Present constitution adopted: 1970
Motto: State sovereignty, national union
| | |
| --- | --- |
| flower | violet (1908) |
| tree | white oak (1973) |
| bird | cardinal (1929) |
| animal | white-tailed deer (1982) |
| fish | bluegill (1987) |
| insect | monarch butterfly (1975) |
| song | "Illinois" (1925) |
| mineral | fluorite (1965) |
Nickname: Prairie State
Origin of name: Algonquin for "tribe of superior men"
10 largest cities (2014): Chicago, 2,714,856; Aurora, 199,932; Rockford, 150,843; Joliet, 148,268; Naperville, 143,684; Springfield, 117,126; Peoria, 115,687; Elgin, 109,927; Waukegan, 88,862; Cicero, 84,137
Land area: 55,584 sq mi. (143,963 sq km)
Geographic center: In Logan Co., 28 mi. NE of Springfield
Number of counties: 102
Largest county by population and area: Cook, 5,227,992 (2012); McLean, 1,184 sq mi.
Public use areas: 186 (275,000 ac.), incl. state parks, memorials, forests and conservation areas
Residents: Illinoisan
2015 resident population: 12,859,995
2010 resident census population (rank): 12,830,632 (5). Male: 6,292,276 (49.3%); Female: 6,538,356 (50.7%). White: 9,177,877 (71.5%); Black: 1,866,414 (14.5%); American Indian: 43,963 (0.3%); Asian: 586,934 (4.6%); Other race: 861,412 (6.8%); Two or more races: 289,982 (2.3%); Hispanic/Latino: 2,027,578 (15.8%). 2010 population 18 and over: 9,701,453; 65 and over: 1,609,213; median age: 36.6.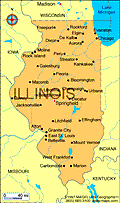 French explorers Jacques Marquette and Louis Joliet, in 1673, were the first Europeans of record to visit the region. In 1699 French settlers established the first permanent settlement at Cahokia, near present-day East St. Louis. Great Britain obtained the region at the end of the French and Indian Wars in 1763. The area figured prominently in frontier struggles during the Revolutionary War and in Indian wars during the early 19th century.
Significant episodes in the state's early history include the influx of settlers following the opening of the Erie Canal in 1825; the Black Hawk War, which virtually ended the Indian troubles in the area; and the rise of Abraham Lincoln from farm laborer to president.
Today, Illinois stands high in manufacturing, coal mining, agriculture, and oil production. The state's manufactures include food and agricultural products, transportation equipment, chemicals, industrial machinery, and computer equipment. The sprawling Chicago district (including a slice of Indiana) is a great iron and steel producer, meat packer, grain exchange, and railroad center. Chicago is also famous as a Great Lakes port.
Illinois is a leading producer of soybeans, corn, and hogs. Other agricultural commodities include cattle, wheat, oats, sorghum, and hay.
Central Illinois is noted for shrines and memorials associated with the life of Abraham Lincoln. In Springfield are the Lincoln Home, the Lincoln Tomb, and the restored Old State Capitol. Other points of interest are the home of Mormon leader Joseph Smith in Nauvoo and, in Chicago: the Art Institute, Field Museum, Museum of Science and Industry, Shedd Aquarium, Adler Planetarium, Merchandise Mart, and Chicago Portage National Historic Site.
On February 14, 2008, former graduate student Stephen Kazmierczak, 21, opened fire in a classroom on the campus of Northern Illinois University, resulting in 18 casualties and six fatalities, including himself.
The first Democrat to have been elected governor in 30 years, Rod Blagojevich, was arrested on December 9, 2008, and impeached on January 9, 2009 on charges of corruption. He began serving a fourteen-year prison sentence on March 15, 2012.
In 2011, the final episode of The Oprah Winfrey Show was aired in Chicago, Ms. Winfrey's adopted home town. It was the longest-running talk show in television history, spanning 25 years and garnering countless awards.
See more on Illinois:
Encyclopedia: Illinois
Encyclopedia: Geography
Encyclopedia: Economy
Encyclopedia: Government
Encyclopedia: History
Monthly Temperature Extremes
All U.S. States: Geography & Climate
Printable Outline Maps
Record Highest Temperatures
Record Lowest Temperatures
Highest, Lowest, and Mean Elevations
Land and Water Area
All U.S. States: Population & Economy
Historical Population Statistics, 1790–Present
Per Capita Personal Income
Minimum Wage Rates
State Taxes
Federal Government Expenditure
Percent of People in Poverty
Births and Birth Rates
Homeownership
Percentage of Uninsured by State
All U.S. States: Society & Culture:
Most Livable States
Healthiest States
Most Dangerous States
Smartest States
Crime Index
Residency Requirements for Voting
Compulsory School Attendance Laws
Driving Laws
National Public Radio Stations
Selected famous natives and residents: