Winter Olympics Memorable Moments: Bonnie Blair
Updated February 21, 2017 |
Factmonster Staff

One of the most decorated Winter Olympians in U.S. history
by John Gettings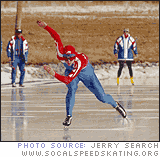 Related Links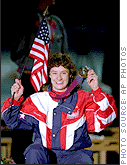 Memorable Moments
Raised in Champaign, Ill., and the youngest of six children, Bonnie Blair started skating when she was two years old. Four of her five siblings went on to win national speed skating titles, leaving her big shoes—make that skates—to fill.
She was a naturally gifted speed skater, who was dedicated to becoming solid in the techniques of her sport. Some say she became the most technically sound skater ever to represent the United States.
But despite her success as a young skater in America, her family lacked the funds to send her to Europe for a chance to compete internationally.
The father of a friend organized a fundraising effort in her hometown that allowed Blair to go abroad and compete on the 1982–1983 World Cup circuit. The following year, 19-year-old Blair competed in the 1984 Olympic Winter Games in Sarajevo, finishing eighth.
But the best was yet to come.
Over the next three Winter Games , Blair would win five gold medals and one bronze. She was the most decorated Winter Olympian in U.S. history when she retired in 1995.
Her unprecedented Olympic success began at the 1988 Calgary Games. In the 500-meter race she won her first gold medal, defeating the defending champion by .02 seconds and setting a new world record in the process. That year she added a bronze in the 1,000-meter race.
At the 1992 Albertville Games Blair won gold in the 500- and 1,000-meter races, becoming the first woman ever to win back-to-back gold medals in the 500.
The 1994 Lillehammer Games saw more of the same. A month shy of her 30th birthday, Blair won two more gold medals, in the 500 and 1,000.
That year she was also named A.P. Female Athlete of the Year, Sports Illustrated Sportsperson of the Year, and Glamour magazine's Woman of the Year.
Today she is a motivational speaker and active in various charities through the Bonnie Blair Charitable Gift Fund Trust.
She anchored the Wisconsin leg of the Olympic torch relay before the 2002 Salt Lake City Winter Games.