/ Maine
Maine
State abbreviation/Postal code: Maine/ME
Governor: Paul LePage, R (to Jan. 2019)
Senators: Susan Collins, R (to Jan. 2021); Angus King, I (to Jan. 2019)
Historical biographies of Congressional members
Secy. of State: Matthew Dunlap, D (since 2012)
Treasurer: Terry Hayes, Unenrolled
Atty. General: Janet T. Mills, D
Entered Union (rank): March 15, 1820 (23)
Present constitution adopted: 1820
Motto: Dirigo (I lead)
| | |
| --- | --- |
| flower | white pine cone and tassel (1895) |
| tree | white pine tree (1945) |
| bird | chickadee (1927) |
| fish | landlocked salmon (1969) |
| mineral | tourmaline (1971) |
| song | "State of Maine Song" (1937) |
| animal | moose (1979) |
| cat | Maine coon cat (1985) |
| fossil | pertica quadrifaria (1985) |
| insect | honeybee (1975) |
Nickname: Pine Tree State
Origin of name: First used to distinguish the mainland from the offshore islands. It has been considered a compliment to Henrietta Maria, queen of Charles I of England. She was said to have owned the province of Mayne in France.
10 largest cities (2012): Portland, 66,214; Lewiston, 36,460; Bangor, 32,817; South Portland, 25,088; Auburn, 22,972; Biddeford , 21,309; Augusta , 18,946; Saco, 18,758; Westbrook, 17,606; Windham, 16,901
Land area: 30,862 sq mi. (79,933 sq km)
Geographic center: In Piscataquis Co., 18 mi. N of Dover-Foxcroft
Number of counties: 16
Largest county by population and area: Cumberland, 281,674 (2010); Aroostook, 6,672 sq mi.
State forests: 1 (21,000 ac.)
State parks: 30+
State historic sites: 18 (403 ac.)
Residents: Mainer
2013 resident population: 1,329,328
2010 resident census population (rank): 1,328,361 (39). Male: 650,056; Female: 678,305. White: 1,264,971 (94.4%); Black: 15,707 (1.1%); American Indian: 8,568 (0.6%); Asian: 13,571 (1.0%); Other race: 4,261 (0.1%); Two or more races: 20,941 (1.4%); Hispanic/Latino: 16,935 (1.3%); 2010 population 18 and over: 1,053,828; 65 and over: 211,080; median age: 42.7.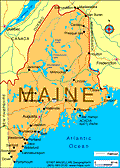 John Cabot and his son, Sebastian, are believed to have visited the Maine coast in 1498. However, the first permanent English settlements were not established until more than a century later, in 1623.
The first naval action of the Revolutionary War occurred in 1775 when colonials captured the British sloop Margaretta off Machias on the Maine coast. In that same year, the British burned Falmouth (now Portland).
Long governed by Massachusetts, Maine became the 23rd state as part of the Missouri Compromise in 1820.
Maine produces 98% of the nation's low-bush blueberries. Farm income is also derived from apples, potatoes, dairy products, and vegetables, with poultry and eggs the largest selling items.
The state is one of the world's largest pulp-paper producers. With almost 89% of its area forested, Maine turns out wood products from boats to toothpicks. Maine also leads the world in the production of the familiar flat tins of sardines, producing more than 75 million of them annually. In 2005, Maine lobstermen landed nearly 63 million pounds of lobster. A glut of lobsters in 2012, caused by warmer temperatures and successful conservation, drove the price fisherman receive to 40-year lows, well under $2.00 per pound.
A scenic seacoast, beaches, lakes, mountains, and resorts make Maine a popular vacationland. There are more than 2,500 lakes and 5,000 streams, plus more than 30 state parks to attract hunters, fishermen, skiers, and campers.
Major points of interest are Bar Harbor, Acadia National Park, Allagash National Wilderness Waterway, the Wadsworth-Longfellow House in Portland, Roosevelt Campobello International Park, and the St. Croix Island National Monument.
See more on Maine:
Encyclopedia: Maine
Encyclopedia: Geography
Encyclopedia: Economy
Encyclopedia: Government
Encyclopedia: History
Monthly Temperature Extremes
All U.S. States: Geography & Climate
Printable Outline Maps
Record Highest Temperatures
Record Lowest Temperatures
Highest, Lowest, and Mean Elevations
Land and Water Area
All U.S. States: Population & Economy
Historical Population Statistics, 1790–Present
Per Capita Personal Income
Minimum Wage Rates
State Taxes
Federal Government Expenditure
Percent of People in Poverty
Births and Birth Rates
Homeownership
Percentage of Uninsured by State
All U.S. States: Society & Culture:
Most Livable States
Healthiest States
Most Dangerous States
Smartest States
Crime Index
Residency Requirements for Voting
Compulsory School Attendance Laws
Driving Laws
National Public Radio Stations
Selected famous natives and residents: