2006 Olympics: Freestyle Skiing
Updated February 21, 2017 |
Factmonster Staff

A breathtaking and creative sport
by Mike Morrison and Christine Frantz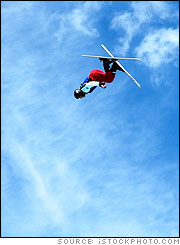 Related Links
Did You Know?
The word "mogul" comes from the Austrian word "mugel," which means "small hill" or "mound."
Freestyle skiing saw its first Olympic action at the 1988 Calgary Games as a demonstration sport. Its immense popularity, particularly with the Gen-X crowd, made it an official medal sport at Albertville in 1992 . It has been a staple of the Winter Olympics ever since.
There are two disciplines—aerials and moguls. Ballet is another discipline associated with freestyle skiing, but it has yet to be accepted as an Olympic event.
The aerial event is perhaps the most breathtaking freestyle discipline. Competitors begin at a spot of their choice and ski straight down the mountain toward a concave jump (which can be as high as 13 ft) that hurls them into the air.
They perform a variety of twists and somersaults in mid-air, and then attempt to stick the landing on their two skis. Sounds easy, right?
A panel of five judges ranks the jumps, guided by the following components: 50% form, 20% air, and 30% landing.
The 12 women and 12 men with the best scores advance to the final round. Each competitor then jumps twice, and the highest combined score wins the gold.
In the moguls competition, skiers individually race down a mountain covered with large bumps measuring up to four feet. They must make aggressive turns while still keeping their shoulders as parallel to the finish line as possible.
There are also two jumps, placed one-third and two-thirds of the way down the mountain. At each one racers attempt to dazzle the panel of seven judges with "helicopters," "back-scratchers," and other creative jumps.
The judges use the following criteria to rank the competitors: 50% turns, 25% air, and 25% speed. Salt Lake City showed that freestyle has caught on throughout the world. No one nation really dominated; 9 different countries shared the 12 medals awarded. The U.S., with three silvers, had the most wins.
In Torino, the U.S. men may have an advantage. Jeremy Bloom took Moguls and Overall in the 2005 World Cup and Jaret Peterson won Aerials. U.S. women didn't fare as well. China's Nina Li won Aerials and Overall in the women's events.
The freestyle events will be held Feb. 11–23 at Sauze d'Oulx Jouvenceaux, 80 km (50 mi) from Torino.