/ Croatia
Croatia
Facts & Figures

Republic of Croatia

President: Kolinda Grabar-Kitarovi (2015)

Prime Minister: Zoran Milanovic (2011)

Land area: 21,781 sq mi (56,414 sq km); total area: 21,831 sq mi (56,542 sq km)

Population (2014 est.): 4,470,534 (growth rate: -0.12%); birth rate: 9.49/1000; infant mortality rate: 5.87/1000; life expectancy: 76.41

Capital and largest city (2011 est.): Zagreb, 686,000

Other large cities: Split, 173,600; Rijeka, 142,500; Osijek, 89,600

Monetary unit: Kuna

National Name: Republika Hrvatska

Languages: Croatian (official) 95.6%, Serbian 1.2%, other 3% (including Hungarian, Czech, Slovak, and Albanian), unspecified 0.2% (2011 est.)

Ethnicity/race: Croat 90.4%, Serb 4.4%, other 4.4% (including Bosniak, Hungarian, Slovene, Czech, and Roma), unspecified 0.8% (2011 est.)

National Holiday: Independence Day, October 8

Religions: Roman Catholic 86.3%, Orthodox 4.4%, Muslim 1.5%, other 1.5%, unspecified 2.5%, not religious or atheist 3.8% (2011 est.)

Literacy rate: 98.9% (2011 est.)

Economic summary: GDP/PPP (2013 est.): $78.9 billion; per capita $17,800. Real growth rate: –1%. Inflation: 2.2%. Unemployment: 21.6% (2013). Arable land: 15.85%. Agriculture: wheat, corn, sugar beets, sunflower seed, barley, alfalfa, clover, olives citrus, grapes, soybeans, potatoes; livestock, dairy products. Labor force: 1.715 million; agriculture 2.1%, industry 29%, services 69% (2012). Industries: chemicals and plastics, machine tools, fabricated metal, electronics, pig iron and rolled steel products, aluminum, paper, wood products, construction materials, textiles, shipbuilding, petroleum and petroleum refining, food and beverages, tourism. Natural resources: oil, some coal, bauxite, low-grade iron ore, calcium, natural asphalt, silica, mica, clays, salt, hydropower. Exports: $12.36 billion (2013 est.): transport equipment, textiles, chemicals, foodstuffs, fuels. Imports: $21.74 billion (2013 est.): machinery, transport and electrical equipment; chemicals, fuels and lubricants; foodstuffs. Major trading partners: Italy, Bosnia and Herzegovina, Germany, Austria, Slovenia, Russia (2012).

Communications: Telephones: main lines in use: 1.64 million (2012); mobile cellular: 4.97 million (2012). Broadcast stations: the national state-owned public broadcaster, Croatian Radiotelevision (HRT), operates 4 terrestrial TV networks, a satellite channel that rebroadcasts programs for Croatians living abroad, and 6 regional TV centers; 2 private broadcasters operate national terrestrial networks; roughly 25 privately owned regional TV stations; multi-channel cable and satellite TV subscription services are available; state-owned public broadcaster operates 3 national radio networks and 9 regional radio stations; 2 privately owned national radio networks and more than 170 regional, county, city, and community radio stations (2012). Internet hosts: 729,420 (2012). Internet users: 2.234 million (2009).

Transportation: Railways: total: 2,722 km (2012). Roadways: total: 29,410 km; (2011). Waterways: 785 km (2009). Ports and harbors: Omisalj, Ploce, Rijeka, Sibenik, Vukovar (on Danube). Airports: 69 (2013 est.).

International disputes: dispute remains with Bosnia and Herzegovina over several small sections of the boundary related to maritime access that hinders ratification of the 1999 border agreement; since the breakup of Yugoslavia in the early 1990s, Croatia and Slovenia have each claimed sovereignty over Pirin Bay and four villages, and Slovenia has objected to Croatia's claim of an exclusive economic zone in the Adriatic Sea; in 2009, however Croatia and Slovenia signed a binding international arbitration agreement to define their disputed land and maritime borders, which led to Slovenia lifting its objections to Croatia joining the EU; Slovenia continues to impose a hard border Schengen regime with Croatia, which joined the EU in 2013 but has not yet fulfilled Schengen requirements.
Next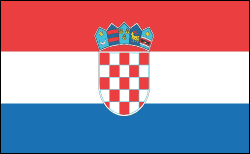 Index
---