Six More Nations Make Their Winter Olympic Debut
Updated February 13, 2018 |
Factmonster Staff


Ecuador, Eritrea, Kosovo, Malaysia, Nigeria and Singapore go to Pyeongchang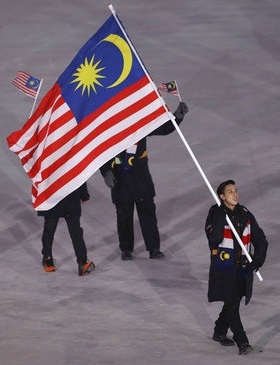 Related Links
In February 2018, six more countries will go to the Winter Olympics for the first time. Here's a look at the athletes representing each nation.
Ecuador
Ecuador will be represented by 38-year-old Klaus Jungbluth Rodriguez, who has chosen to represent his home country after an extended period of work and study in Queensland, Australia. Breaking from his doctoral studies in sports science, Jungbluth began a ski federation in Ecuador so that he could compete for his nation in cross-country skiing. He will proudly be the country's flag bearer during the opening ceremonies.
Eritrea
Shannon Ogbani-Abeda, 21, is the lone Alpine skier representing Eritrea in the Winter Olympics for the first time (though he prior represented the country for the first time at the 2012 Youth Olympics in Innsbruck). Ogbani-Abeda was born in Alberta, Canada, to two refugees fleeing the Eritrean War of Independence from Ethiopia. He has been practicing diligently around his part-time Computer Science studies. He will represent Eritrea in the slalom and giant slalom.
Kosovo
This year's games mark a milestone for Albin Tahiri, former resident of Yugoslavia and athletic representative of Kosovo. Kosovo's sovereignty has been contentious since it declared independence in 2008, less than a decade after its war of independence against Serbia. This acknowledgement on the global stage is a major achievement for the fledgling nation, and for 28-year-old Tahiri, who will also be competing in the slalom and giant slalom.
Malaysia
Malaysia is sending two athletes to Pyeongchang for their first Winter Olympics. Five-time National Champion Julian Yee Zhi-jie will be participating in the Men's single figure skating event. Yee has prior won gold at the Southeast Asian Games, but has yet to place on the world stage. The country will also be represented in Alpine skiing by Jeffrey Webb, who will compete for gold in the slalom. Webb previously led Malaysia Alpine debut at the Asian Winter Games.
Nigeria
Three athletes will be representing Nigeria in two events, all women. Simidele Adeagbo, a former track-and-field competitor (who still holds an NCAA triple jump record) has chosen to represent her birth country in the skeleton event, making her the first ever black woman and first African woman to ever compete in the sport. Expectations for Adeagbo are high after a strong qualifying time. Joining Adeagbo is the two-woman bobsled team of Seun Adigun and Akuoma Omeoga. Adigun, also coming from a track-and-field background, founded the Nigerian team in 2016.
Singapore
Rounding out the newcomers, Singapore is being represented by short-track speed skater Cheyenne Goh. The 18-year-old Goh has previously participated in several world cups, and has consistently placed high. Despite facing stiff competition, such as from the last Olympic winner Zhou Yang, Goh and the nation are optimistic about their chances.
More about the 2018 Winter Olympics