/ Nevada
Nevada
State abbreviation/Postal code: Nev./NV
Governor: Brian Sandoval, R (to Jan. 2019)
Lieut. Governor: Mark Hutchison, R (to Jan. 2019)
Senators:Catherine Cotrez Masto, D (to Jan. 2023); Dean Heller, R (to Jan. 2019)
Historical biographies of Congressional members
Secy. of State: Barbara Cegavske, R (to Jan. 2019)
Treasurer: Dan Schwartz, R (to Jan. 2019)
Atty. General: Adam Paul Laxalt, R (to Jan. 2019 )
Organized as territory: March 2, 1861
Entered Union (rank): Oct. 31, 1864 (36)
Present constitution adopted: 1864
Motto: All for Our Country
| | |
| --- | --- |
| flower | sagebrush (1959) |
| trees | single-leaf pinon (1953) and bristlecone pine (1987) |
| bird | mountain bluebird (1967) |
| animal | desert bighorn sheep (1973) |
| colors | silver and blue (1983) |
| song | "Home Means Nevada" (1933) |
| rock | sandstone (1987) |
| precious gemstone | virgin valley black fire opal (1987) |
| semiprecious gemstone | Nevada turquoise (1987) |
| grass | Indian ricegrass (1977) |
| metal | silver (1977) |
| fossil | ichthyosaur (1977) |
| fish | lahontan cutthroat trout (1981) |
| reptile | desert tortoise (1989) |
| state artifact | tule duck decoy (1995) |
Nicknames: Sagebrush State; Silver State; Battle Born State
Origin of name: Spanish: "snowcapped"
10 largest cities (2012 est.): Las Vegas, 596,424; Henderson , 265,679; Reno , 231,027; North Las Vegas, 223,491; Paradise, 223,167; Sunrise Manor 189,372; Spring Valley, 178,395; Enterprise 108,481; Sparks, 92,183 ; Carson City , 54,838
Land area: 110,577 sq mi (286,380 km2)
Geographic center: In Lander Co., 26 mi. SE of Austin
Number of counties: 16, plus 1 independent city
Largest county by population and area: Clark, 1,951,269 (2010); Nye, 18,147 sq mi.
State parks: 24
Residents: Nevadan, Nevadian
2016 resident population est.:  2,940,058
2010 resident census population (rank): 2,700,551 (35). Male: 1,363,616 (50.5%); Female: 1,336,935 (49.5%). White: 1,786,688 (66.2%); Black: 135,477 (6.8%); American Indian: 26,420 (1.3%); Asian: 90,266 (4.5%); Other race: 159,354 (8.0%); Two or more races: 76,428 (3.8%); Hispanic/Latino: 393,970 (19.7%). 2010 percent population 18 and over: 75.4; 65 and over: 12.0; median age: 36.3.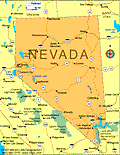 Trappers and traders, including Jedediah Smith and Peter Skene Ogden, entered the Nevada area in the 1820s. In 1843–1845, John C. Frémont and Kit Carson explored the Great Basin and Sierra Nevada. The U.S. obtained the region in 1848 following the Mexican War, and the first permanent settlement was a Mormon trading post near present-day Genoa.
The driest state in the nation, with an average annual rainfall of only about 7 in., much of Nevada is uninhabited, sagebrush-covered desert. The wettest part of the state receives about 40 in. of precipitation per year, while the driest spot has less than 4 in. per year.
Nevada was made famous by the discovery of the Comstock Lode, the richest known U.S. silver deposit, in 1859, and its mines have produced large quantities of gold, silver, copper, lead, zinc, mercury, barite, and tungsten. Oil was discovered in 1954. Gold now far exceeds all other minerals in value of production.
In 1931, the state created two industries, divorce and gambling. For many years, Reno and Las Vegas were the "divorce capitals of the nation." More liberal divorce laws in many states have ended this distinction, but Nevada is still the gambling capital of the U.S. and a leading entertainment center. In 2009, 12.5% of Nevadaâs general revenue came from gambling, which brought in $830 million. Nevada's lack of a lottery might account for its 12th place ranking for total gambling revenue.
The state's leading agricultural industry is cattle and calves. Agricultural crops consist mainly of hay, alfalfa seed, barley, wheat, and potatoes.
Nevada manufactures gaming equipment; lawn and garden irrigation devices; titanium products; seismic and machinery monitoring devices; and specialty printing.
Lake Tahoe, Reno, and Las Vegas are major resorts. Recreation areas include Pyramid Lake, Lake Tahoe, and Lake Mead and Lake Mohave, both in Lake Mead National Recreation Area. Other attractions are Hoover Dam, Virginia City, and Great Basin National Park (includes Lehman Caves).
See more on Nevada:
Encyclopedia: Nevada
Encyclopedia: Geography
Encyclopedia: Economy
Encyclopedia: Government
Encyclopedia: History
Monthly Temperature Extremes
All U.S. States: Geography & Climate
Printable Outline Maps
Record Highest Temperatures
Record Lowest Temperatures
Highest, Lowest, and Mean Elevations
Land and Water Area
All U.S. States: Population & Economy
Historical Population Statistics, 1790–Present
Per Capita Personal Income
Minimum Wage Rates
State Taxes
Federal Government Expenditure
Percent of People in Poverty
Births and Birth Rates
Homeownership
Percentage of Uninsured by State
All U.S. States: Society & Culture:
Most Livable States
Healthiest States
Most Dangerous States
Smartest States
Crime Index
Residency Requirements for Voting
Compulsory School Attendance Laws
Driving Laws
National Public Radio Stations
Selected famous natives and residents:
Eva Adams former director of U.S. Mint;
Andre Agassi tennis player;
Raymond T. Baker former director of U.S. Mint;
Helen Delich Bentley government official and newspaperwoman;
Robert Caples painter;
Walter Van Tilburg Clark writer;
Henry Comstock prospector;
Abby Dalton actress;
Michele Greene actress;
Sarah Winnemucca Hopkins author and Paiute interpreter and peacemaker;
Jack Kramer tennis player;
Paul Laxalt politician;
Robert Laxalt writer;
William Lear aviation inventor;
Robert C. Lynch surgeon;
John W. Mackay benefactor, one of Big Four of Comstock Lode;
Emma Nevada opera singer;
Thelma "Pat" Nixon first lady;
James W. Nye territory governor and senator;
Lute Pease cartoonist and Pulitzer Prize winner;
Edna Purviance actress;
Patty Sheehan golfer;
Jack Wilson Paiute Indian prophet;
George Wingfield mining millionaire.