Winter Olympics Memorable Moments: Bjorn Daehlie
Updated February 21, 2017 |
Factmonster Staff

The winningest Winter Olympian
by John Gettings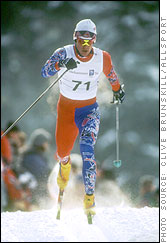 Related Links
He's won more medals than Carl Lewis, Mark Spitz, Eric Heiden, or Sonja Henie , but until cross-country skiing becomes a national passion in the United States—as it is in Norway—Bjorn Daehlie will continue to be overlooked by Americans as one of the greatest athletes in Olympic history.
The Norwegian nine-time world champion dominated Olympic cross-country skiing in the 1990s, winning 12 medals: eight gold and four silver. He has won more gold medals and total medals than any other athlete in the history of the Winter Games.
The "Nannestad Express" (a nickname that pays tribute to his hometown) won his first Olympic medal at age 24 and his last at 30. An injured back, combined with his age, forced Daehlie to retire in March 2001.
Just before Daehlie burst onto the Olympic scene, Norway was in need of a spark. At the 1988 Winter Games in Calgary, the country that invented Nordic skiing won just two silver medals in those events.
At the 1992 Winter Games in Albertville, Daehlie and countryman Vegard Ulvang each won three gold medals and a silver, leading to Norway's sweep of the five men's cross-country events.
Two years later, in Lillehammer, Norway, Daehlie won a pair of golds and a pair of silvers, which included a disappointing, yet thrilling, .4-second loss in the team relay event.
Norway's Nordic team won five of the country's ten gold medals in 1994, and the host Norwegians led the Games' final medal standings for the first time since 1968.
Daehlie continued his mastery at the 1998 Winter Games in Nagano. He won three more gold medals and a silver, making it the third consecutive Games in which he led all male Olympians, with four medals.